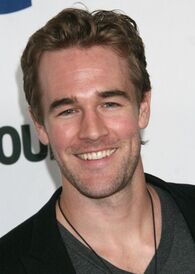 James William Van Der Beek, Jr.
(born March 8, 1977) is an American actor who plays
Simon
,
Robin
's first boyfriend, in
How I Met Your Mother
.
Biography
James Van Der Beek was born on March 8, 1977, in Cheshire, Connecticut, as the oldest of three children to father Jim Van Der Beek, a cellular-phone company executive and mother Melinda Van Der Beek, a gymnastics studio owner and former Broadway dancer. James has a brother named Jared who was born in 1979 and a sister named Juliana who was born in 1981. James started acting at 13 after suffering a concussion playing football that prevented him from playing for a year on doctor's orders. He landed the role of Danny Zuko in his school production of Grease. After that, the acting bug sank in and the next three years he spent time doing local theater. Around 16, he and his mother went to New York City to find an agent and possible auditions. A year later, he was cast in an off-Broadway play called Finding the Sun. After doing another play called Shenandoah in 1994, James received an academic scholarship to Drew University in NJ, where he was working towards obtaining a major in English with a minor in sociology and also at that time he won the role of Rick Sanford in the movie Angus (1995). In 1996, he won a very small supporting role in I Love You, I Love You Not (1996). After that film his acting career was at a dead end and he decided to continue with his schooling and eventually made the Dean's list. In early 1997, Van Der Beek auditioned for three television pilots. One of them was for the fledgling WB Network show Dawson's Creek. Van Der Beek won the title role of "Dawson Leery," and the show's 1998 debut was a success that helped to establish the network and its cast, which included Katie Holmes, Michelle Williams, and Joshua Jackson.
After Dawson's Creek ended in 2003, Van Der Beek has made a few appearances on television, including Ugly Betty, Criminal Minds, How I Met Your Mother, One Tree Hill and Medium.
In 2012, Van Der Beek portrays a fictionalized version of himself in the show Don't Trust the B---- in Apartment 23.
Filmography
Notes and Trivia
His hobbies are: playing the guitar, sleeping, staying with his friends and playing sports.
He was roommates with Joshua Jackson during the first season of Dawson's Creek.
He had two children with his wife Kimberly Van Der Beek: a girl named Olivia and a boy named Joshua.
External Links
Community content is available under
CC-BY-SA
unless otherwise noted.