Alfred Mosby is Ted and Heather's father.
Show Outline
He married Virginia, Ted's mother, in his youth, but they later got divorced after being separated for two years. He appears in How Lily Stole Christmas in a picture with his new "girlfriend", Micro Brewing.
In Last Words, he claimed to have broken up with his 'new girlfriend' because he was sleeping with Ted's prom date and hadn't been drinking much.
He doesn't talk very much with his son Ted, as the only thing they are comfortable discussing is baseball. While hanging out with Barney at MacLaren's Pub in Brunch, he ended up making out with Wendy the Waitress. When this was later revealed to Virginia, it merely caused a very soft reaction from her, prompting them to reveal that they had been divorced for some time without telling Ted (and, so it seems, Heather).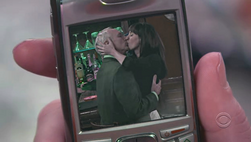 Family
Episode Appearances
How Lily Stole Christmas

(pictured in photograph; voice on answering machine)
External Links
Community content is available under
CC-BY-SA
unless otherwise noted.