Jurassic World: Dominion Dominates Fandom Wikis - The Loop
Play Sound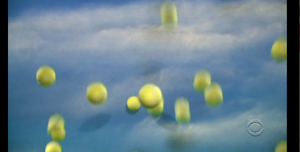 AltruCell Corporation is a company that is well known for its production of "the fuzzy stuff on tennis balls".
It was implied by Future Ted that the company does a lot more things than making the yellow fuzzy stuff, including logging, drilling for oil, manufacturing weapons, tobacco farming, and missile construction for the government.
The company's main concern is to make the public specifically aware of their production of the tennis ball fuzz, rather than their earth-destroying ventures.
Barney, who is a high-up employee of GNB (a subsidiary company of AltruCell), stated that he can't get fired, because of the negative and secret things he knows about the company, specifically the fact that the company considers the possibility of engaging in war against Portugal. Furthermore, there were constant references to questionable activities committed by the company, including trade activities with North Korea. In The Goat, Barney speaks Chinese, saying 韩国人不知道,不要担心,不要担心 (The Koreans don't know, don't worry, don't worry).
The first time Altrucell is mentioned is in Life Among the Gorillas.
In Unpause, it is revealed that Barney was feeding information about AltruCell to the Feds.
Add l