Wiki Targeted (Entertainment)
Play Sound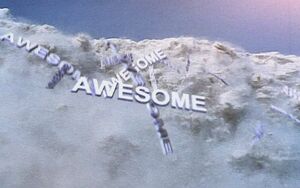 Awesome is a recurring phrase used by the gang to describe the awesomeness (or not) of certain situations/events. Barney uses the phrase more than anyone (to the point where it's become his catchphrase and is an iconic part of his character), but all five of them have used the phrase, such as Marshall in Sweet Taste of Liberty.
"Awesome" Quotes
Barney

:
When I get sad I stop being sad and be awesome instead. True story.
---
Barney

:
(after sneezing) My nose was just overflowing with awesome, and I had to get some of it out.
---
Barney

:
(mockingly) Totally, Awesome!" (laughs) "Man, these college girls are lame.

Ted

:
Totally.

Barney

:
Awesome. So here's the plan...
---
Barney

:
Where my sadness gland should be there is only a second awesome gland.... True story.
---
Barney

:
You're the most awesome person I've ever known.. Well second most awesome.

Robin

:
Right, of course the first being you.

Barney

:
No, no, the first is this guy who lives in a place called the mirror. What Up!
---
Barney

:
Because tonight, is the night we tracked down Phil Collins, became best friends with him, and talked him into reuniting with Peter Gabriel, so then we got to sing Back-Up on the new Genesis album and it was Awesome!
---