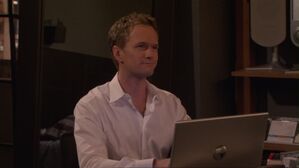 Barney's Blog is a blog kept by Barney Stinson, one of the main characters of How I Met Your Mother. Each entry is usually in response to what occurs during the episodes.
Blog Entries
Episode Mentions
The following is a list of episodes where Barney's Blog is specifically mentioned by one of the characters.
While riding in a cab, Barney's so excited Ted finally suited up at his request that he's going to put it in his blog.
"Look at you, you beautiful bastard, you suited up. This is totally going in my blog."
Barney tells Lily one of the twenty-four similarities between women and fish, realizing that since she didn't know that, she didn't read his blog.
"One of the twenty-four similarities between women and fish is that they're both attracted to shiny objects. You really never read my blog, do you?"
Barney angrily shouts to Ted when he ditches him to get a tattoo with Amy.
"This is so going in my blog!"
Ted explains to the group why Barney goes to pet stores to pick up women.
"God bless you, Ted. You're reading my blog."
Ted admits it and explains he is often bored at work. Later in his apartment, Barney is seen typing into his blog, reflecting on all the women he saw earlier as part of of his search for the mystery girl. However the entry was never really posted.
Barney's co-worker Randy, who Barney asks to be his wingman when he and Ted aren't talking, says that he regularly reads the blog.
"I have been reading your blog for years. You are like a god to me. "
Robin's co-worker Don is naked when Robin enters his house.
"...It's called 'The Naked Man' I read it on some guy's blog."
In the cab, Barney mentions a rule from his blog to Marshall.
"The rule is no kids until you're at least 45. Do you ever read my blog?! It's gotten a lot better."
Barney gets in a fight with Robin about being unable to post a boner joke on the blog due to their constant travel, leading into their divorce.
"It's not a business, Barney, it's a blog, okay?"
Notes and Trivia
Barney's Blog is maintained and written each week by Matt Kuhn, one of the writers for the show.
The song that plays when Barney is seen typing on his blog in

The Bracket

​ is the theme song for the show "Doogie Howser, M.D.". This memento from the beginning of Neil Patrick Harris' career makes the entire scene resemble the scene at the end of every episode of "Doogie Howser M.D." where Doogie would write an entry in his digital diary.