This is the eighty-third entry of Barney's Blog, written by How I Met Your Mother main character Barney Stinson. It was retrieved from the CBS archive Here.
This entry is in response to the episode Three Days of Snow.
Bingo!
January 19, 2009
Every year I take the top 25 party schools and arrange them on a bingo card. The rules are simple*: Sleep with a collegiate hottie then mark her school on the board. Bingo = five in a row in any direction – up, down, across, upside down, missionary, etc.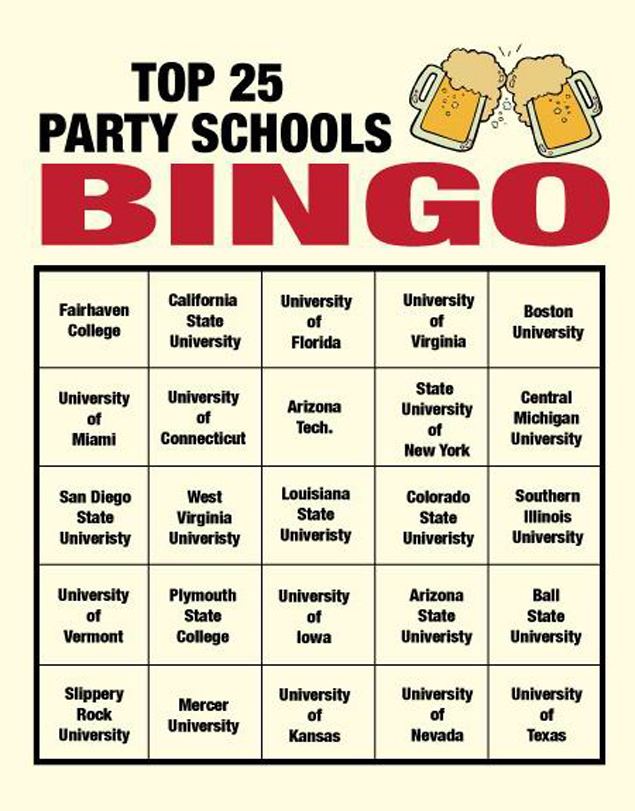 following prerequisites must be met for Bingo

1. Students must be currently enrolled. Don't think you can knock Florida off your list just by visiting a strip club in Gainsville.

2. Spring break acquisitions may NOT be applied toward your Bingo sheet. This is supposed to be a challenge.

3. Students shall have completed one credit hour of a foreign language.

4. College mascots / members of the dance team will be considered invalid.

5. Student must be attending university in person – "getting a degree" online does not count in the same way that "having sex" online does not count.

6. Any conquests achieved during a 24 hour period following that school's college world series win, NCAA basketball tournament triumph, or BCS bowl victory will be considered null and void.

7. Have fun!
Notes and Trivia