Wiki Targeted (Entertainment)
Play Sound
This is the one hundred and fifteenth entry of Barney's Blog, written by How I Met Your Mother main character Barney Stinson. It was retrieved from the Barney's Blog at CBS.com here.
This entry in response to the episode The Wedding Bride.
Movie Review: The Wedding Bride (2010)
May 17, 2010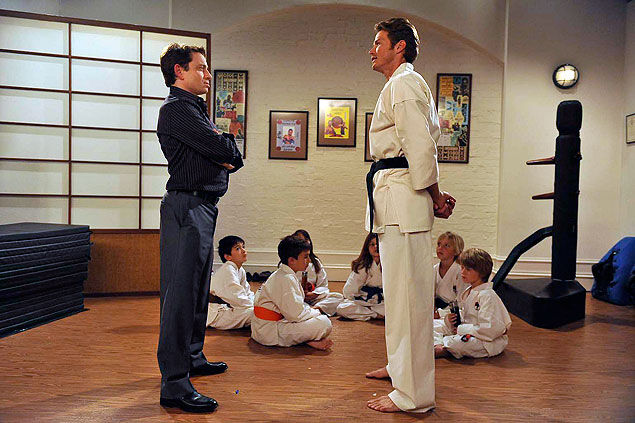 When At First You Don't Succeed
By BARNEY STINSON
When we first meet Jed Mosely, the vile antagonist in "The Wedding Bride," he's in his dimly lit office holding a peppermint latte and berating a nearby assistant. He rips a huge fart and then spills the latte all over his lap. It's hilarious. But it's also heartbreaking. Because it is this force – the force of Jed's fart – that we know our protagonist will be up against.
Tony Grafanello's brilliant debut drama is a brutally honest portrayal of one man's journey to win back the woman he loves. That man, Tony (played by a pitch-perfect Jason Lewis) must battle the odds and his own regret, in an attempt to stop Stella (an emotive and bosomy Malin Akerman) from marrying lothario architect Jed (Chris Kattan in his finest hour).
As most love stories are, "The Wedding Bride" is simple. Yet a subterranean complexity exists, derived not from any convenient plot devices but from the intricate characters borne out of Mr. Grafanello's pen. He is a master craftsman: delicate and compassionate, a keen observer of the human condition. For example, in the 84-minute strip club scene, we watch Jed take a dollar bill from his wallet not once, not twice, but fifty-six times. And in each of these fifty-six little moments, we feel the pain of the dancers, the hurt of the bartenders, and the longing of the disc jockey.
The entire cast is solid, but it is Mr. Kattan who steals the show. He turns in what is sure to be an Oscar-nominated performance as the biggest douchebag cinema has ever known. At a breezy 200 minutes, "The Wedding Bride" is not to be missed. It rips out your heart and punches you directly in the balls with it.
"Let me make you my wedding bride," Tony begs Stella near the end of the film, tears streaming down his face. And in the end, you want her to say yes.
"The Wedding Bride" is rated R for adult language, frank depictions of emotional and physical violence, and extremely long sequences of full-frontal male nudity.
Opens on Friday in New York, Los Angeles and Corpus Christi Starring Chris Kattan, Jason Lewis, Malin Akerman, and Matt Blitz. Written and Directed by Tony Grafanello.
Notes and Trivia
Matt Blitz is later named in the episode "Blitzgiving" as the original Blitz, who is "cursed" to miss out on cool stuff. Matt Blitz left Wesleyan University the year before it went co-ed, earning him the title.
Community content is available under
CC-BY-SA
unless otherwise noted.