Barney and Robin

Started Friendship

Started Dating

Break up

Engaged

Married

Divorced

2016
Show Outline
In Pilot, Barney introduces Ted to Robin. His first description of her is "You know she likes it dirty". From Purple Giraffe​​ onward, Robin is accepted into the group. One of the first signs of their growing friendship is Robin agreeing to Barney's increasingly scandalous dares to say certain things on her news show, knowing no one is actually watching. The first sign of a possible relationship between Barney and Robin occurs in Zip, Zip, Zip​​, where Robin acts as Barney's replacement wingman (in place of Ted, who is busy dating Victoria). During this night out, Robin is better at being a wingman than Ted ever was. At the end of the evening, Barney disrobes assuming he will be hooking up with Robin. Robin is shocked and refuses, then asks why he would think that. After presenting his view on their similarities and chemistry, Robin agrees. However, Barney learns that Robin still has feelings for Ted, thus dashing any chances. In Moving Day, in a desperate bid to get Ted and Robin to stop moving in together, Barney notes that Ted will see Robin without makeup. She comments that she's currently not wearing any, and Barney exclaims "Holy crap, you're beautiful!". In Wait For It, Barney comments that Robin is 'a ten' when talking about the hotness of the girl (or girls) he's going to need to find for Ted in order to beat that. In How I Met Everyone Else​​, Ted's date Blah Blah assumes Robin is dating Barney, to which Robin says "no" sixteen times. In Sandcastles in the Sand, Robin's ex-boyfriend Simon travels from Canada to visit. The gang dislikes his obnoxious nature and poor treatment of Robin (who reverts back to being 16 again when she's around him). After agreeing to date him again, he dumps her a short time afterward, the same way he did when they were teens, and Robin is left in a vulnerable state at the bar. Barney sees her crying and comforts her, saying she's too awesome now as an adult to want to relive her teen years. Robin invites Barney back to her apartment to watch her second Robin Sparkles music video 'Sandcastles in the Sand', which Simon starred in. Robin and Barney watch the tape over and over until they end up having sex. When they wake up the next morning, they agree to pretend it never happened in case they upset Ted for "breaking the bro code". Neither can keep the secret and Robin ends up telling Ted. He does not hold it against her but temporarily ends his friendship with Barney.
In Miracles, Barney (who is now exempt from the group after Ted ends the friendship) rushes to be at Ted's hospital bed after a minor car accident. Ted suffers no injuries and is free to leave. As Barney runs through the streets of New York, he reaches the hospital but is hit by a bus as he crosses the road. He requires surgery and his entire body is bandaged. The severity of his injuries leads Ted to realise how silly he's being about Robin and tells Barney they aren't just friends, they're brothers. Ted leaves then Lily and Marshall ask Barney what he saw when his life was flashing before his eyes during the bus accident. As they suggest things like "Suits, boobs, money..." Barney simply gazes at Robin.
In Do I Know You?​​​​​​​​​, Barney confesses to Lily that he is in love with Robin, in order to seek advice about what to do. Lily suggests he should tell Robin, but Barney is too afraid. Lily sets them up on a dinner date and despite Barney being on his best behaviour, Robin assumes she's only there to be his wingman, and introduces him to the waitress. Barney does end up sleeping with the waitress but secretly checks in on Robin's news show every morning just to see her face. In Benefits​​​​​​​​​, Ted and Robin become "friends with benefits" in order to stop fighting so often, and Barney is extremely distressed. Lily tries to comfort him but he resorts to smashing a TV from the dumpster outside the bar every time Ted talks about having sex with Robin. Barney goes out of his way to clean Ted's apartment so he'll stop fighting with Robin. Ted picks up on this and questions Barney's feelings for Robin. While Barney still won't admit he loves Robin, Ted knows better and ends the hook-up situation with Robin. In Mosbius Designs​​​​​​​​​, Barney is shown to be upset at Robin sleeping with Ted's assistant, PJ. Marshall reveals to Barney that Lily told him about Barney's feelings for Robin, and Marshall helps him by hiring PJ to work as a paralegal at GNB. In The Stinsons, Barney's mother tells him not to run from a clear shot with someone special and Barney ponders if Robin is that person. In Right Place, Right Time, Barney completes his ongoing mission to sleep with 200 women. As he sits alone at MacLaren's, he rips up the list and wonders "What now?" then smiles as he spots Robin entering the bar. In The Leap​​​​​​​​​, Barney confesses his love for Robin to Ted, who isn't surprised. Robin is listening in the next room and goes to Lily and Marshall for advice. They want her to date Barney but she is hesitant. Marshall says Robin should "Mosby" Barney, that is, tell him she loves him to make him lose interest so she has more time to think. She does and it works until Lily says Robin was only pretending, then he wants Robin to actually love him. They go back and forth on this until finally, after Ted has to go to hospital after being beaten by a goat, they admit their feelings for each other and kiss. They agree it's not the right time yet to discuss things. Later that night, each member of the gang takes a leap off the apartment ledge to the one directly across from theirs. When Barney is about to leap, he looks at Robin, his reason for leaping, and executes the jump cleanly, hugging Robin on the other side.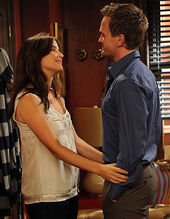 In Definitions​​​​​​​​​, Barney and Robin start dating - only their definition of dating is just having sex. Lily pressures them to have "the talk" about their relationship and define it, but Robin and Barney only want to keep having sex. Lily locks them in Robin's bedroom and eventually they talk. They come to the same answer and decide to "pretend" to Lily that they have clarified their love for each other, but end up actually meaning what they say.
Barney becomes insecure about Robin dumping him and takes lessons on how to please her, from Ted (Robin 101​​​​​​​​​). Robin becomes insecure that Barney will cheat on her and starts acting overly paranoid about his actions. Barney attempts to get US Citizenship for Robin (Duel Citizenship), tracking down Robin in Canada when she wakes up there after a drinking session. In Bagpipes​​​​​​​​​, Robin and Barney have started fighting so often they try to cover this up by being a 'better' perfect couple than Marshall and Lily. In The Rough Patch​​​​​​​​​, after letting themselves go and becoming miserable, Barney and Robin break up. They decided they are simply better as friends. In Of Course, it is revealed Robin has been handling the break-up badly, often running away to cry whenever Barney talks about his sexual conquests. The gang figures it out and tell Barney, who is horrified to have hurt Robin accidentally. He tries comforting her but she says his actions make her feel like "just another number". Barney realises how poorly he's treated her and sets her up on a super date with her new co-anchor Don Frank. In Twin Beds, Barney becomes jealous of Don when Robin agrees to move in with him. He starts trying to figure out how to win Robin back and inadvertently makes Ted want her back too. They fight over her and Robin moves out of Ted's apartment. In Doppelgangers, Barney is shocked to learn Robin might move to Chicago, calling it a huge mistake. He demands the entire group help her decide first.
When Robin lets herself go after breaking up with Don, Barney tells her she cannot just switch her hotness back on. She proves him wrong by showing up at the bar a short time later looking perfect. Barney is impressed by her move. In Subway Wars​​​​​​​​​, the gang competes to race around New York. Barney notices Robin is upset and tackles Ted right near the finish line so Robin can win. In Baby Talk​​​​​​​​​, when Robin's new co-anchor is a woman who acts like a little girl, she is confused as to why men like her so much. Ted says it's because men like feeling needed by her, something they don't feel when they're with Robin. Robin is upset by this and visits Barney. She asks if she ever made him feel needed when they were dating and he says no. Robin goes to leave, embarrassed, but Barney stops her and explains it's a compliment, because he likes how independent and strong she is. In Natural History, Barney and Robin spend most of their time at a museum gala Ted's attending, challenging each other to touch all the "Do Not Touch" displays. In Hopeless, Barney confesses to his father that he feels he is broken inside and doesn't exactly love his life anymore. He asks his dad how he managed to put away everything and settle down. Jerome says while a "magician never reveals his greatest trick", a hint is "you've gotta find the right girl". When Jerome says "Who knows, maybe you'll meet her tomorrow!", Barney responds "Maybe I've met her already".
In Challenge Accepted, Barney and Robin reflect on their relationship. They talk about how they genuinely loved each other and were happy even if the timing wasn't right. They seem to be against getting back together when they see Ted acting desperately towards Zoey. However, when Robin pushes Barney to talk to Nora after he runs into her on the street, Robin's expressions changes from happy to sad when he ends up asking her out. In a flash forward, Barney is revealed as the groom at a wedding Ted, Marshall and Lily are attending.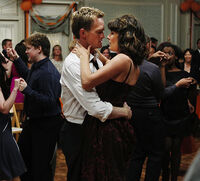 In The Best Man​​​​​​​​​, Robin tells Lily she still has feelings for Barney. Lily encourages her to tell Barney but he leads her into a passion filled dance at reception. As they finish, Nora calls Barney. Barney is lost for words so Robin gives him things to tell her, which are also evidently her own romantic feelings for Barney, but he does not realise what she's saying. It works on Nora and she and Barney begin dating. Robin tells Ted "timing is a bitch".
In The Stinson Missile Crisis​​​​​​​​​, Robin deals with intense jealousy as Barney lavishes Nora with gifts and surprises. Robin tries to hook up with him while Nora is away. She later sends a woman to meet Barney during his date with Nora, hoping it will break him and Nora up, but has a change of heart and tackles the girl before she can walk in on their date.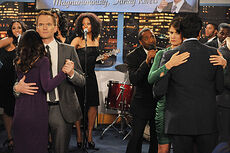 In Disaster Averted, Barney and Robin are revealed to have almost kissed several months before, just after Hurricane Irene (which chronologically took place during the events of season 6). They talk about how bad it would've been if they had kissed, then surprisingly share a passionate kiss. Robin and Barney end up sleeping together in his apartment that night, as revealed at the beginning of Tick Tick Tick. Robin and Barney are guilty about cheating on their partners. They agree to tell Nora and Kevin about their affair, split up with both, then make a go of dating one another again. After breaking up with Nora, Barney is devastated when Robin is not willing to end her relationship with Kevin. Instead of going home, Barney heads back to Ted's apartment (where Robin lives) and takes down a romantic display he had set up in Robin's room, for when they were to secure their relationship. Ted witnesses Barney throwing rose petals in the trash and blowing out candles, but decides not to say anything. In Symphony of Illumination, Robin and Barney experience a pregnancy scare. Barney assumes the baby must be Kevin's but Robin reveals she has not had sex with Kevin yet. Ultimately, Robin is found not to be pregnant, but she is also found to be unable to have a baby at all. She and Barney are happy to not be pregnant, but Robin doesn't tell Barney about her infertility until a few months later. He responds by silently hugging her.
In The Drunk Train​​​​​​​​​, Kevin and Robin are engaged, but Kevin breaks up with Robin when he finds out she cannot have children. Later, Ted confronts Barney saying he knows something happened between he and Robin, because of the night when he saw him in Robin's room with the candles and rose petals. Barney then tells Ted everything that happened, and that Robin picked Kevin because she loves him. When Ted tells Barney that Kevin and Robin broke up, he says he doesn't care that Robin is single because she doesn't feel the same way, and he wouldn't care if she started dating someone else, even if that person was Ted, because he wants her to be with someone who makes her happy even if that person is not him.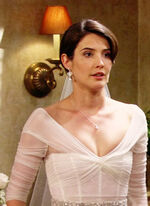 In The Magician's Code - Part Two​​​​​​​​​, Barney proposes to Quinn in an airport security room. Returning to Lily and Marshall's apartment, Barney announces this to those present alongside Quinn. Robin appears to be shocked and says nothing while Lily and Marshall first speak to congratulate the couple. After the others leave, Barney and Robin have a bittersweet conversation about how it's their last chance to run away together. But Robin, believing Barney to be truly happy with Quinn, tells him she's happy for him. In the final scene, Robin is revealed to be the bride at Barney's wedding (despite the fact that Barney and Quinn became engaged earlier in the same episode).
In Farhampton, a flashforward to the wedding reveals both Barney and Robin having cold feet. Back in the present, Robin is surprised when Quinn asks her to be one of her bridesmaids prompting Barney to reveal that he never told her about their relationship. Robin is hurt that Barney seemingly deleted every piece of evidence of their relationship (so that Quinn would never find out) but later he gives her a key to a storage unit on 622 West 14th Street where he keeps a box full of things from their time together. Upon seeing this, Robin is moved and becomes teary-eyed while Barney is shown smiling as he thinks about Robin while riding in a cab heading home with Quinn.
In The Pre-Nup, a flash-forward is shown to when Barney and Robin are engaged. It shows Barney telling his co-workers how excited he is for his and Robin's wedding. His boss asks if he wants a pre-nup, and he replies, "Not this time." With smile on his face because he trusts Robin.(This comes after a pre-nup with his ex-fiancee Quinn causes the end of their relationship due to trust issues.) Robin then comes in and they kiss and go to lunch.
In The Autumn of Break-Ups, Robin worries about Barney when he takes on a dog as his new wingman, which he names Brover. He is upset when he must return Brover to his rightful owner, so Robin goes with him prompting them to recall when Barney accompanied Robin when she dropped off her dogs at her lesbian aunt's farm. When Brover's owner, an attractive woman, insinuates that Barney and Robin are a couple, Robin pretends that she too is a lesbian so Barney can hook up with her. As she walks away, Barney smiles and calls her the "best wingman ever".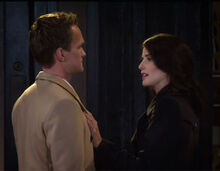 In Splitsville, Robin hesitates on breaking up with her boyfriend Nick, prompting Barney to give her an incentive: either she breaks up with him or he will post an online invitation to Robin's co-worker Patrice inviting her to a "BFF Fun Day". Robin takes Nick to "Splitsville", a nearby dessert place where couples tend to break up, but tries to back away from dumping him after he receives a somber sounding phone call. However, Barney insists that she doesn't wait and says he will post the invite if he doesn't hear her break up with him on speaker phone. Before she can, Nick reveals that the phone call was from his doctor telling him that the groin injury which had kept him from having sex with Robin would take longer to heal than he thought so they might as well start having sex again. When it seems that Robin no longer has a reason to dump him, Barney appears fed up and walks out of the apartment. However, he turns up at "Splitsville" and tells Nick that he and Robin are over because Barney and her are in love. When Robin tries to tell him to stop, telling Nick that Barney doesn't really love her, Barney interrupts stating that he loves everything about her. He says that Robin has a hold on his heart that he can't break and that he could not stop loving her anymore than he could stop breathing. "I am hopelessly, irretrievably in love with her. More than she knows." His sudden confession is enough to convince Nick and shocks Ted, Lily and Marshall who hear every word over the phone. Robin also appears stunned by his confession and later tells Barney that he was "really convincing" when he tries to act like it was all fake. Barney smirks and says it is a good thing Nick bought it so fast or he would've had to kiss her. He leans in but they are interrupted by a phone call from Patrice, excited for her and Robin's "BFF Fun Day" as Barney forgot to cancel the invitation.
In The Stamp Tramp, Barney asks Robin to be his "agent" as he tries to find a new regular strip club (as Quinn who has possibly returned to work at the Lusty Leopard following their break-up). Robin takes to the job enthusiastically by making all the potential clubs compete with one another. However, Barney is disappointed when she takes a bribe from "The Golden Oldies" (a strip club Barney had previously dismissed) and fires her. Later when she apologizes, he is quick to forgive her and agrees to "a date" when she asks if she can buy him his first lap dance at his chosen club, "Mouth Beach". Later that night, as a very drunk Barney and Robin return home from the club, Robin muses how she had missed her single life and says she had a lot of fun with him. Barney says he always has fun with her and kisses her, much to her surprise. Robin kisses him back at first before pulling away. Flustered, she tells him that "we can't do this" before walking away leaving Barney behind.
In Twelve Horny Women, Barney tells Robin that he is done pursuing her and after he leaves to pick up another woman, Robin thinks about what he said and suddenly exclaims, "Huh."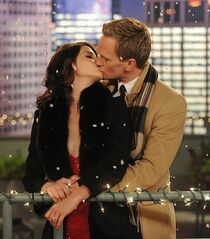 In Lobster Crawl, Robin tries to get Barney back by using different schemes. The first one "The Damsel In Distress" involves her, getting a new printer and asking Barney to bring it to her office for her. She also says she'll "pay" him. But that one doesn't work because Robin's co-workers Patrice and Brandi interfere. After that, Robin tries "The Center Of Attention", "The 'Is That Angelina Jolie?' ", "The Ask For Lily's Help" and "The Robin And Lily Get Freaky". Since none of those schemes work, she resorts to knocking on Barney's door, stripping off her coat and revealing sexy purple-black underwear. "It's okay if you don't know what you want in life - as long as you know what you want tonight.",she says. Barney answers that he does know what he wants and he turns around in order for Robin to see Patrice, sitting on his couch. After he tells Robin that he and Patrice talked all night and are "kind of on a date now", Robin leaves, looking hurt.
In The Over-Correction, Barney is - kind of - together with Patrice while Robin gets obsessed with trying to break them up. She does not succeed.
In The Final Page - Part Two​​​​​​​​​, Robin finds out that Barney had asked Patrice to help him comple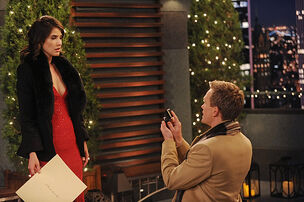 te the final play in his Playbook: The Robin. Not only would this be his last play, but also the last of his single life as he proposed to Robin at her favorite spot in the city in a Christmas environment with rose petals and candles, and tearfully she said "yes".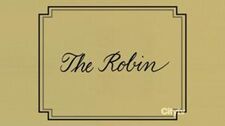 In Band or DJ?, Robin wants Barney to ask her father for his blessing on their wedding, but he turns down Barney's request to marry Robin. While Barney attempts to win over Robin Sr., Robin declares that she will marry Barney without his permission and will not invite him to the wedding because Robin Sr. got married to a woman named, Carol, without her permission. Barney later helps the two reconcile and Robin Sr. agrees to her request to share a dance with her at the reception.
In Ring Up, Both of them are shown very happy at being engaged. Then they both run into problems of their own. Barney getting over one-night stands and Robin adjusting to life as in engaged woman. While they love each other they are both having a difficult time going through their issues. In the end, they both realize that they will be happy as long as they have each other.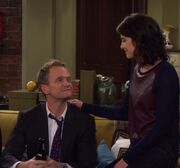 In P.S. I Love You, Robin admits to the gang that she was once a stalker. When she refuses to tell Barney whom she was obsessed with, he breaks into her apartment and reads her teenage journals. Puzzled by the cryptic phrase "PS I Love You", Barney flies to Robin's home town to interview her ex-boyfriends. Simon then tells him about a video documentary which tells the whole story. Barney runs out to find the documentary and then goes back to The Apartment and tells the others that he found another Robin Sparkles video. The video explains that Robin wrote a grunge song, "P.S. I Love You". The video further says that the one name that comes more than any other about who P.S. I Love You was about is Alan Thicke. Barney visits him and violently demands the truth; Thicke easily defeats him and denies that he was the song's subject. Barney returns to the others claiming that he fought Thicke to a draw, and admits that it is normal to obsess over romantic interests. Robin comforts him and reveals that the "PS" in the song was Paul Shaffer.
In Weekend at Barney's​​​​​​​​​, Robin is upset to discover that Barney never really burned the Playbook and that he lied to her. She tells him he can't lie to her anymore, which makes Barney tell her that lying is what he's good at. He's a magician so misdirection and deceit are his stock and trade. He points out to her that everything he did to get her to say yes to him were all a bunch of lies. But underneath all of his lies is the fact that he loves her, and that is the one thing he would never lie about. Robin is still upset as she declines two fake bouquets he pulls out, but on the third one, she cracks a smile and accepts it and gives him a kiss. Later, Barney gives Jeanette permission to blow up the actual Playbook.
In The Fortress, Robin tries to sell Barney's apartment claiming she doesn't want to live in a "diseased-riddled bang-pad haunted by the ghosts of your ex-skanks". After seeing all Barney's gadgets he has invented to get rid of girls, only one couple decide to keep the apartment. Barney later tells Robin he is willing to give up his Fortress of Solitude because he never wants to be alone again. Robin answers that, when the couple interested in the apartment told her they would tear the place down, she realized she loved all the good and bad things about him, and she doesn't want to change him too much, so she kicked the buyers out and decided they should keep it.
Something Old had Robin frantically searching in Central Park for a locket that she buried when she was 14 when she came to New York with her dad. She reveals to Ted that she has been having fears about marrying Barney and if she could find her locket, then that would be a sign from the universe to forget her worries and marry him. But she is devastated when she finds the box, but the locket is missing and interprets this as a sign from the universe that she and Barney should not be getting married.
In Something New​​​​​​​​​, Robin and Barney scheme together to take down one obnoxious couple who demanded them to put away their cigars and who stole their table. Robin slipped her own engagement ring in the girlfriend's wine glass to make her think her boyfriend is proposing to her and a fight breaks out, to which Robin and Barney celebrate by clinking their glasses together. They celebrate their victory by smoking the cigars Barney got, but are later confronted by the couple. They said that after their fight they decided to get married. Barney and Robin quickly realizing that their actions made that happen. Happily satisfied they kiss. By the end of the episode, Robin and Barney are happily preparing to go get married, taking off in a limo driven by Ranjit, on their way to their wedding in Farhampton.
The Wedding Weekend: Barney and Robin come to find out that they may be related, but this turns out to be a false alarm. When Barney discovers his brother James is getting a divorce, Robin worries about how Barney will take the news, later Barney reassures Robin that he doesn't need James to make him believe in true love as they have each other for that. Worried that their flame will extinguish after 60 years of marriage, Barney and Robin decide they must have one last "bang" before they're married. In the end though, they realize they have nothing to worry about and instead of having sex, they visit with their elderly relatives. Barney tells Robin he is always going to support her no matter what, but in doing so he declares he's severing ties with his mother and brother but claims Robin ordered it. Barney and Robin steal Lily and Marshall's story of how they met to impress their minster. They are later exposed by Lily insulting descriptions of them which makes them mad. They later go to their minster and beg for forgiveness hoping that he will still marry them. He refuses and asks them to leave. On their way out Barney admits they shouldn't have lied about their story as both of them admit that they love the story of how they got together. Barney gets caught in the middle of a conflict between Robin and his mother. Barney tells Loretta that Robin can't have kids, which he learned of the previous fall before they were together. Barney immediately hugged her when she told him. He asks his mother "to be nice" to Robin because he's marrying "a girl who means more to him than kids". After this conversion Loretta realizes just how much Barney loves Robin because Robin means more to Barney "than anything in the world". In the end Loretta makes peace with Robin. Barney organizes a Canadian-themed rehearsal dinner at an ice rink planned just for Robin and gives her his own personal wedding gift to her. Robin tells Barney how much she loves him, and promises to get him back for this and Barney tells her to "bring it"; right before they kiss. In the final scene, Barney admits that he loves Canada as he lists several amazing things Canada has given the world including one-quarter of himself and best of all you (Robin). She thanks him and the two of them skate off happy together to have a good time at their rehearsal dinner. Barney afterward gets very drunk and then goes missing. They find him but throughout Robin's wedding she begins to start second guessing Barney.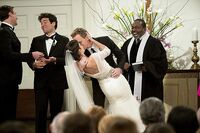 In The End of the Aisle Barney vows to Robin that he will always be honest to her. She kisses him and they get married.
In Last Forever - Part One Barney and Robin reveal that they got divorced in 2016 because they couldn't spend any time together due to Robin's hectic work schedule.
Most of their interactions in the flash forwards of Last Forever - Part One and Last Forever - Part Two show they remain amicable towards each other after their divorce, especially when Robin congratulates Barney on the birth of his daughter. Future Ted implies that Robin and Barney rekindle their relationship.
Significant Episodes
Return of the Shirt

- Barney pays Robin to say and do inappropriate things on air.

The Duel

- Robin ridicules Barney for his "Lemon Law" and tells him that he could miss out on someone great if he keeps skipping out on his date after five minutes of knowing them. Barney retaliates by setting her up with someone that normally would not attract Robin and dares her to last longer than five minutes with her date.

Zip, Zip, Zip

​​​​​​​​​ - First time Barney and Robin bro out together and discover they have a lot in common. At the end of the episode Barney thinks that him and Robin are going to hook up but is shot down when Robin confesses that she has feelings for Ted.
Similarities
Barney and Robin have a number of similarities:
Both have a Canadian background.
Both have a love of Scotch.
Both had issues with their fathers; Barney not knowing who his was and Robin being estranged from hers.
Both have issues with relationships and wanting to be in relationships. Commitment phobia as it were.
Both were hesitant to have kids.
Both love cigars.
Both love to place bets while watching sports.
Both like sports.
Both had problems with people changing their apartments. Barney didn't like it when Lily bought groceries and when Quinn wanted to use her coffee mugs. Robin had issues living with Ted because she didn't want his stuff in her apartment.
Both have run plays on each other. Barney's "The Robin" was his elaborate proposal to her and Robin's "The Barney" was to give him a legendary bachelor party night he would never forget.
Both have step-mothers, which they don't know very well.
Both have broken into each other's apartment.
Whenever they speak in unison they both look at each other; they smile and go "Awww".
Neither tries to change the other person, rather they accept each other for who they are.
Both have taken a ride on a mechanical bull.
Both think of themselves as "messes".
Both do big schemes
Both have done "life or death" situations, in the woods and run over by a car
Both have a voice which is what they use when they tell a lie but it is very true
Both broke the bro code
Both have a sense of style
Both have travelled
Both prioritize career most of the time
Both take a while to fall in love
Both need their own space
Both may tend to date around post break up
Both are secretive about their feelings
Both are stubborn and independent
Both tease each other, mainly for fun
Both took a while to want "marriage"
Both have been to China and other countries in Asia
Both don't think of themselves as romantic people
Both are considered to have had the most growth throughout the series
Both are supportive of each other
Both have large egos
Both have charisma
Both have dated stupid people and not liked it
Both have set each other up with people
Gallery
Notes and Trivia
Carter Bays has stated he does not know what will happen to Barney and Robin in the future. While the finale suggests Robin and Ted end up together, Bays suggests that Barney and Robin may end up in an on/off relationship.
The break up of their marriage is very controversial.
In the alternate ending the narrator says "some things fall apart, some thing fall back together", while Robin and Barney smile fondly at each other. In that case it's assumable that they got back together.
In the DVD commentary in Season 9, Carter Bays says "How could we not have Ted and Robin end up together?"