Wiki Targeted (Entertainment)
Play Sound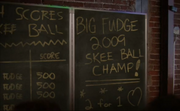 Big Fudge is a name given to Marshall Eriksen who sometimes uses it when speaking in the third-person, mostly in the phrase "Come again for Big Fudge?"
Episodes
Marshall reveals that he would go to his college bar once a month to maintain his record as Skeeball champion, naming himself "Big Fudge". When Ted said that he will kick his ass if he had feelings for someone other than Lily, Marshall replies, "You can't handle the Fudge."
Everyone at GNB knows that Marshall is trying to get Lily pregnant, so when Marshall is beginning to leave, everyone cheered and one of his coworkers tell him "Sink that putt, Big Fudge!".
When Marshall says about how "Ted is with Zoey, Barney is with Nora and Lily is with Big Fudge" which shocked Barney who says "Woah.......woah, Big Fudge, with?".
When Arthur said that not only will he fire Ted but will also fire Barney, Barney uses Marshall's line "Come again for Big Fudge?"
When Barney offered Quinn a job at GNB to stop her being a stripper, Quinn said "Come again for Big Fudge?"
When Lily talks about agreeing with Victoria, Marshall said "Come again from Ms. Fudge?"
When Ted insisted that Marshall and Lily take their old dirty beanbag chair to Italy, Marshall said his line in Italian "Vieni ancora per Fudge Grande?".
When Reverend Lowell accused Lily for using Barney and Robin's love story (which indeed is hers to begin with), Lily said "Come again for Li'l Fudge?" which is reference to her husband's line.
In a flashforward to year 2020 where Marshall is elected as New York State Supreme Court Judge and reporters will go to him live, a drunk Marshall (thinking he would lose) says "Come again for Judge Fudge?"
It is also revealed in this episode that Marshall got his nickname Big Fudge by eating an eight-pound block of fudge in 12 minutes when he got accepted to Columbia.
The gang starts calling Marshall Judge Fudge after learning he's going to be a judge and Marshall says they'll be calling him Fudge Supreme after becoming a judge for the Supreme Court.