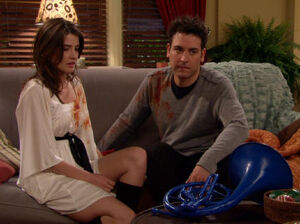 The Blue French Horn first appeared in the Pilot episode, in which Ted steals it for Robin after she saw it in a restaurant called "Carmichaels" and he said it reminded him of a 'Smurf penis' and she said she'd like one for her apartment. From this point onwards, Robin kept it on the mantle in her apartment.
In Come On, Ted surprises Robin in her apartment with candy, flowers, and a group of musicians with blue instruments (in reference to the Blue French Horn).
In Something Blue, Ted was forced to return it to the Carmichaels restaurant when they took his driver's license. They decide to return it to symbolize the end of their relationship.
In Twin Beds, Barney and Ted get drunk and try to win Robin back, and Ted has stolen the French Horn again. After moving in with Don, she leaves the horn behind in her empty room at Ted's apartment.
In No Pressure, Ted picks Robin up at the airport and takes her to the same restaurant with the Blue French Horn, where it is shown to be chained up.
In Platonish, as Marshall is trying to convince Ted to get back together with Robin, Ted mentions that if he was going to get back together with Robin he would use the Blue French Horn.
In the final episode, the last shot of the series is Ted holding it for Robin once again outside her door.
Gallery
Notes and Trivia
In an early version of the Pilot it is revealed that Barney originally made the "Smurf Penis" joke.
The Blue French Horn is actually an old-style mellophone[1].
References
Community content is available under
CC-BY-SA
unless otherwise noted.