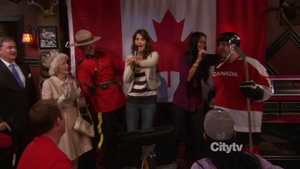 Canada is a country that neighbours most of the United States to the north. It is where Robin Scherbatsky was born and raised in. Throughout the series, the country has been a constant subject of mockery by the American members of the Gang, especially Barney, who is revealed in Season 7 to have 1/4 Canadian blood due to his paternal grandfather's origins.  The Gang has portrayed Canada as much more backward than the United States. Robin often mentions Canadian people, ideas, customs, etc that other members of the Gang are not likely to be familiar with. Sometimes, Robin is seen hanging out in Hoser Hut, a Canadian-themed bar in New York.  
Episodes with significant Canadian references or elements
Season 1
Season 2
Season 3
Season 4
Season 5
Season 6
Season 7
Season 8
Season 9
Recurring and Special Characters Portrayed as Canadian
Notes and Trivia
References
Community content is available under
CC-BY-SA
unless otherwise noted.