For the episode of the same name, see Challenge Accepted.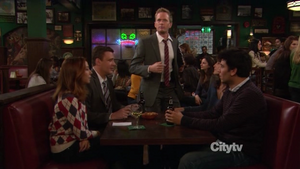 Challenge Accepted is a catchphrase commonly used by Barney. Due to his competitive nature, Barney often likes to complete challenges posed to him, and accepts these challenges by saying "challenge accepted". Usually, this is said while looking up and standing.
Most of the challenges he accepts revolve around seducing women. Often, he attempts challenges that no-one has asked him to undertake, that no-one cares if he succeeds or not. However, this does not deter him at all, and he still makes a great effort to complete all challenges he accepts.
Marshall also uses "challenge accepted" in the same fashion in Unpause.
Challenges Accepted
Sleep with Marshall's professor. [1]
Hook up with a 22-year-old while in his old man make-up. [2]
Complete Ted's Murtaugh List. [3]
Talk his way out of a speeding ticket. [4]
Hook up with a girl while wearing Marshall's old overalls. [5]
(Robin) Make jokes about Barney's overalls. [5]
Pick up a girl while talking like a little boy. [6]
Touch everything in the Museum of Natural History.  [7]
Find Marshall and Lily's sex tape. [9]
Seduce a bridesmaid over the phone. [10]
Get laid wearing Ted's Red Cowboy Boots. [11]
Break Krirsten and Calvin up. [12]
Get a blond girl's number.  [13]
Get a girl's number while talking like a dolphin. [13]
Get a girl's number in a garbage bag, without using the letter 'e'. [13]
Get the number of the redhead at the bar. [13]
Go pick up diapers and samosas while picking up a girl. [14]
Get Robin Scherbatsky to fall in love with me. [13]
To cheer up Robin. [13]
To hook up with the girl in the pink sweater at the bar. ​[15]
(Marshall) To endure in sex long enough for Lily to fall asleep to avoid a discussion. [16]
Do a split in mid-air. [17]
Challenges Completed
Barney successfully completes every challenge he makes for himself with the exception of two. He is never able to pick up a girl in Ted's red cowboy boots because they are stolen back by Robin, Lily, and Ted in season 8 episode 10, The Over-Correction. Before Barney is able to steal them back, the boots are set on fire by Ted's crazy girlfriend Jeanette in season 8 episode 18, Weekend at Barney's along with Barney's prized Playbook.
He also never managed to pick up a girl with diapers and samosas because before he can, the mother talks sense into him. Leading him to his next challenge: Getting Robin to fall in love with him. 
Trivia
In the movie A Million Ways to Die in the West, Neil Patrick Harris's character uses this phrase upon being challenged to a duel.
References