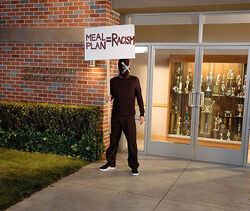 Doctor X is the pseudonym Ted used while operating as an on-air personality at Wesleyan University. Ted likes to pretend the identity of Doctor X remains a mystery, even though it's obvious to everyone (particularly Lily and Marshall) that it was him.
From 1998-2000, Ted served as the Program Director for the university radio station, 88.1 WESU-FM. The radio was run on the third floor of the Student Center next to the game room. The main idea for Doctor X's persona was that it would be about Generation X and what the 'X' stands for or what the generation stands for.
Doctor X was first mentioned in The Possimpible because it was mentioned on Ted's resume. Ted states Doctor X was a "genius mystery DJ" and as much as he claims that the identity of Doctor X is still not known to this day, Marshall and Lily both state that everyone knew it was Ted and that his show sucked.
Doctor X was known for having "happenings" to protest various things that he (or other claimed students that sent him letters) weren't happy about. One example is how the school's meal plan is racist. At the end of The Possimpible it is shown that no one went to the happening which leads us to believe that the students didn't listen to his show or didn't care.
In The Stamp Tramp, Ted "revealed" that he was Doctor X. It was also revealed that the persona of Doctor X was not Ted's idea, but a fellow Wesleyan student's as he was "eating a sandwich."
Trivia
Community content is available under
CC-BY-SA
unless otherwise noted.