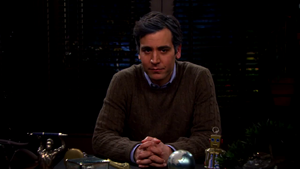 Future Ted is the narrator of How I Met Your Mother. He is Ted Mosby of 2030, who is telling his two kids the story of how he met their mother. He is voiced by Bob Saget (from Pilot until The End of the Aisle) and Josh Radnor (only in Last Forever - Part Two).
As Future Ted and Ted Mosby are the same person, most information about Ted can be found on the main Ted Mosby page.
Storyline
After the wedding, Ted meets Tracy McConnell and falls in love with her. He takes her on a date three days later. They begin to date and a year later he proposes to her and she accepts. In 2015 she tells Ted that she can't get married in September because she is pregnant. Ted and Tracy have their first child, Penny later that year. In 2016, Ted finds out that Barney and Robin got divorced. Ted would have his son, Luke, in 2017. In 2018 Ted meets up with Lily, Barney and Marshall who announces that he became a judge. In 2019 Ted, Tracy, Lily, Marshall, and Barney hang out at Robots Versus Wrestlers. In 2020, Ted, his wife (not shown), Marshall and Lily celebrate their 20th college reunion and they take a hit of a "sandwich". That year Ted runs into Robin, who is excited to see him. He re-proposes to Tracy and they finally get married later that week. Ted watches Barney pull the exploding meatball sub on Marshall in 2021, but mentions how Barney has sauce on him which makes Barney mad. On New Years Eve with Tracy, Ted drinks a lot with Tracy and are hung over the next day. In 2024, Ted and the mother spend a weekend at the Farhampton Inn together. Ted's wife dies later that year. In 2030, Ted tells his kids the story of how he met their mother which is actually a story of how he fell in love with Robin. His kids give Ted permission to be with Robin, so he shows up at Robin's with the Blue French Horn.
Family
Future Ted Appearances
Notes and Trivia
External Links
Community content is available under
CC-BY-SA
unless otherwise noted.