How I Met Your Mother Wiki is the authoritative resource on the popular CBS sitcom How I Met Your Mother, which revolves around five 30-something characters in New York and the main character, Ted's quest to find his true love. The wiki features character pages, episode portals, theories about "The Mother" and pages on viral promotions such as Barney's Blog.
Trending articles
Popular categories
View full main page
How I Met Your Mother Wiki
The wiki devoted to the hit Television sitcom, How I Met Your Mother.
1,131 legendary articles and 4,537 files since 30 March 2008, and you can help it grow!
What's New?
Make sure to stop by the Wiki Talk Page to give us all your opinions on the theme, or discuss anything about the wiki. Also if you want to discuss something in general, then post a topic about it in the Forums.
Check out our new poll "What was your favorite Season Finale?"
Do check out the "Featured Video", for an HIMYM related video worth watching.
Make sure to check out How I Met Your Mother's series finale,

Last Forever - Part Two

.
Keep in mind the identity of The Mother is revealed on the site throughout various pages. In fact, there's a picture right below this text. Don't look down.
Want To Help Out?
Create an account!

You can still contribute without one, but with your own account you won't see ads, can communicate with other users, keep track of your contributions and earn achievements.
Every edit is helpful, no matter how big or small. Simply reading through articles and fixing any typos/grammar mistakes is a big help. You don't even need to register to do so!
Look through the Community Portal and the Current Projects page to look at various things going on around the wiki you could contribute to!
Have a look at the article stubs and the articles in need of cleanup pages for articles that could use your help.
If you would like to try your hand at creating some articles, have a look at the wanted pages for a list of wanted articles.
Don't like to write a lot? A picture says a thousand words, and uploading images is a great way to improve the site! Have a look at the image needed category for articles that could use your help with additional photos.
Don't Know Where To Start?
Check out this

tutorial

if you're new to editing wikis, or see Help:Contents.
You can find out more information about the How I Met Your Mother Wiki on the About page.
You can find a list of useful templates on the templates page.
How I Met Your Mother Wiki In Other Languages
Barney and Ted visit a matchmaker who tries to find Ted the perfect woman. Marshall and Lily find a strange creature in the apartment.
---
You can help out by
editing
the page!
View Past Polls here. Discuss the current poll here.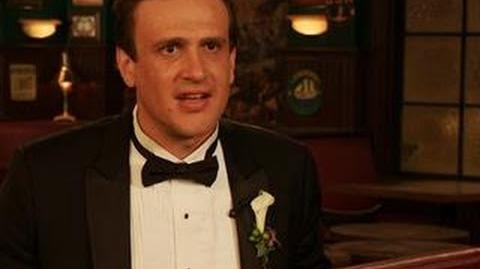 The cast talks about their characters' journeys throughout the nine seasons. Video from the official CBS YouTube channel.
Discuss the Featured Video here.