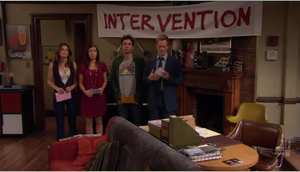 The
Intervention banner
is used by
the gang
whenever they host an intervention.
It first started when the gang were part of an intervention to help their friend Stuart quit drinking. Afterwards, they felt so good about helping Stuart that they created the banner and held another intervention; this time for Marshall, to convince him to take off the hat he had been wearing for two weeks. This went on for a while, with each member of the gang having interventions for small things they didn't like about one another, until Barney accidentally burned the banner performing one of his fire magic tricks. (Intervention)
Months later, Ted stumbles across a second banner, and the gang reveals that they planned to hold an intervention for Ted, as they initially disapproved of him marrying Stella. However, once they got to know how great she was, they realized it was a stupid idea and so never used it. (Intervention)
About a year later, the banner is used again when the gang hold an intervention for Marshall, this time due to his constant use of charts and graphs. (Right Place, Right Time)
In early 2011, Ted calls the gang together for another intervention, banner included. He's not sure how to deal with his feelings for Zoey, considering she's married, and so asks them all to intervene and offer him advice. (Oh Honey)
A couple of months later, the gang hold an intervention for Barney at Ted's house, to try and convince him to have dinner with his father and give him another chance. (Legendaddy)
In 2012, the gang hold another intervention (Quinntervention) for Barney at The Apartment, to try to convince him to slow things up with Quinn. (The Broath)
In late 2012, Marshall, Lily and Ted hold and intervention for Robin because she is too obsessed with Barney. (The Over-Correction)
Interventions
The following are a list of people the gang have held interventions for, and the reasons why.
Barney: frequent magic tricks, specifically those involving fire.
Barney: not taking off the old man suit.
Barney: give his father a second chance and have dinner with him.
Lily: use of fake British accents.
Marshall: refusing to take off a hat.
Marshall: constant use of charts.
Robin: obsession with spray tans.
Ted: marrying Stella before they knew each other.
Ted: for his pretentious pronunciations; for example: "encyclopædia". (Not actually seen)
Ted: love for a married woman.
Stuart: for drinking. (This was done with other people)
The Gang: for hosting too many interventions. (Called the "Intervention" intervention.)
Barney: for his plan to move in with Quinn. (Called the Quin-ntervention.)
Robin: her obsession with Barney
Episode Appearances
These are episodes where interventions and the intervention banner have made an appearance.
Community content is available under
CC-BY-SA
unless otherwise noted.