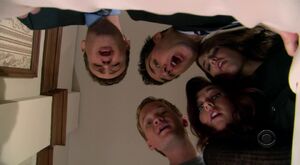 Mark
was an employee at
MacLaren's Pub
who was mentioned in
Monday Night Football
but never seen.
Show outline
On February 3, 2007, Mark is first mentioned by Wendy the Waitress when she comes over to give the gang "the information for the next day". When she realizes they have no clue what she's talking about, she tells them that Mark has died and that he would have wanted them at the funeral since they were his favorite customers.
Unfortunately, the gang doesn't remember Mark and struggles with the idea of going to the funeral on Superbowl Sunday. But after seeing Carl yell at a customer that wanted to skip the funeral to watch the Superbowl, they cave. It isn't until they stand above the open casket, that they remember who Mark is.
Notes and Trivia
Ted accidentally calls Mark: 'Mike' or 'Matt'.
In his casket, Mark wears a handstiched, cashmere, double breasted Dolce & Gabbana suit.
His wake takes place at MacLaren's.
We know that Mark and Carl took a trip (described as the best day of their lives) where they were supposed to see whales.
Lily said that he was "so young" when he died so he may have died of an illness such as pneumonia or cancer.
Community content is available under
CC-BY-SA
unless otherwise noted.