Wiki Targeted (Entertainment)
Play Sound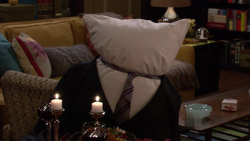 Marshpillow is the name Lily gave her body pillow after dressing it up to look like Marshall in Desperation Day​.
After the death of Marshall's father, Marvin Eriksen Sr., Marshall stayed in Minnesota to look after his Mom. After being alone in her apartment for so long without Marshall, she went a little crazy. She started off by putting Marshall's jersey on her body pillow, but soon spiraled out of control from there, when she began to have romantic dinners with Marshpillow and the two had conversations (where Marshpillow answered back).
When Marshall finally returns to New York, Lily breaks up with Marshpillow, telling it that "we both knew this would end eventually".
Marshpillow is seen again briefly in Challenge Accepted. When Marshall returns from his job interview, Lily is seen curled up beside it. However, she quickly stuffs it out of sight and covers it with a blanket to hide it from Marshall.
In The Broken Code, Lily comes up with Marshpillow 2.0. Marshpillow 2.0 is a humanoid Pillow, having a tablet computer as a face. On the screen of Marshpillow 2.0's face, can be seen Marshall via videotelephony. He supports his friends, Ted and Barney, in their problems with Ted holding Barney's fiancée's hand in the park . Barney claims, that it was a weird moment between Ted and Robin, for that Ted broke the Bro Code. Marshall, who is a future judge, judges about their problem, as Marshpillow 2.0.
In Bass Player Wanted, Robin helps Lily get over her anger for Marshall for taking the judgeship offer behind her back by letting her beat Marshpillow 2.0.
Gallery
Episode Appearances
Community content is available under
CC-BY-SA
unless otherwise noted.