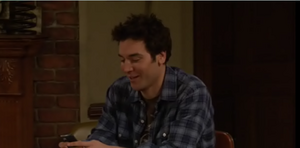 The
Naked Lady Noise
is the sound that
Ted
makes whenever he sees a nude woman (either fully or partially), something resembling a nude woman (or part of), or something that reminds him of a nude woman (e.g. a text message).
The Naked Lady Noise is depicted in The Three Days Rule. Ted receives a woman's number but is told to wait 3 days to call her, so Ted decides to text her instead.
He sends her the following message:
"I was thinking about you so I thought I'd send you a little texty text."
After 23 minutes, he receives a reply:
"I've been thinking about you too. And how weird is it that you texted me while I was in the bath?"
Ted then imagines the woman in the bath texting (unbeknownst to him, it is actually Barney and Marshall playing a prank), this causes him to make the Naked Lady noise since she's obviously naked while in the bath.
Robin then comes out and points out to Ted that he makes the Naked Lady Noise whenever he sees a naked lady (which Ted denies).
It is then revealed that Ted made the Naked Lady Noise on at least 3 previous occasions:
When Ted and Robin were watching a documentary about a New Guinea tribe (it is implied that the women of the tribe are topless).
Robin then asks Ted to "keep the naked lady noises to a minimum", again Ted denies he makes a noise, so in order to prove her point, Robin undoes her robe and flashes Ted . He then of course makes the noise.
After Ted asked the girl, Holli out and she said that she sits around her house reading architecture magazines completely naked, Ted makes the noise again.
Notes and Trivia
Community content is available under
CC-BY-SA
unless otherwise noted.