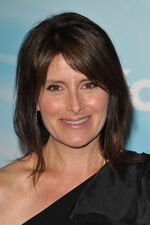 Pamela Fryman (born August 19, 1959) is an American sitcom director and producer. She serves as a director for How I Met Your Mother.
Career
Fryman, who was born and raised in Philadelphia, PA, got her first job on The John Davidson Show as an assistant to the talent coordinator, and went on to be a booth production assistant and secretary on Santa Barbara, eventually moving up to assistant director (AD), and director. In 1993, producer Peter Noah, with whom she had worked on the game show Dream House, gave Fryman a chance to direct an episode of the short-lived sitcom Café Americain. These would be the first stepping stones toward a long and successful career.
Before her directing career blossomed, Fryman pursued stage directing. On the set of Frasier, rehearsal resembled a play staging, which is exactly what creator and executive producer David Lee had in mind when he hired her.[1] Fryman directed 34 episodes of the show from seasons four through eight.
She has directed every episode of the first and the final season. She is also featured, rather comically, in a lot of gag reels for a few seasons and is known to "scold" the cast if they mess up. She has directed every episode except for:
Season 2
Season 3
Season 4
Season 5
Season 6
Season 7
Season 8
References
External Links
Community content is available under
CC-BY-SA
unless otherwise noted.