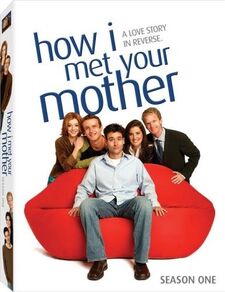 Season 1 of How I Met Your Mother aired from September 19, 2005 to May 15, 2006 and contained 22 episodes from the Pilot to Come On.
Synopsis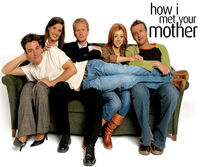 In the year 2030, a 52-year-old Ted Mosby gathers his daughter (Penny) and son (Luke), to tell them the story of how he met their mother. The story begins back in 2005 with Ted as a single, 27-year-old architect living with his two best friends from college; Marshall Eriksen, a law student, and Lily Aldrin, a kindergarten teacher, who have been dating almost 9 years until Marshall proposes. Their engagement causes Ted to think about marriage and finding his soul mate, much to the disgust of his self-appointed best friend Barney Stinson whom he met a few years earlier in a bathroom after a night of drinks. Barney is known as a womanizer with an unnamed corporate job. Ted begins his search for his perfect mate and meets an ambitious young reporter, Robin Scherbatsky, with whom he quickly falls in love. Robin, however, doesn't want to rush into a relationship and the two decidde to be friends. Future Ted reveals that Robin is not the mother after referring to her as his children's "Aunt Robin".
Ted meets Victoria, a baker at a wedding. They decide that they will have a spectacular night by doing the first thing that pops in their head but after that night ends they are not allowed to see each other because when they are old and gray they can remember this perfect night. The next day, Ted is not satisfied with this being the end and decides to find her. They begin dating and this causes Robin to become jealous when she realizes she does have feelings for Ted. Victoria moves to Germany for a culinary fellowship, and she and Ted try a long distance relationship which fails because once Ted learns Robin has feelings for him, he tells her that he has broken up with Victoria, (despite Ted and Victoria not yet being broken up). They almost have sex when Victoria calls and Robin answers by mistake thinking it is her phone while Ted is in the bathroom having an argument with a hallucination of Victoria. Ted and Victoria then break up and Robin becomes mad at Ted, but they eventually make up. Ted gets a call from Love Solutions, a dating system company he tried using, who have finally found him a match. Ted ultimately decides not to show up for the blind date because he still believes Robin is the one.
Meanwhile, Lily begins to wonder if she's missed any opportunities because of her relationship with Marshall, and decides to pursue an art fellowship in San Francisco, breaking up with Marshall in the process. The season ends with Ted making it rain so Robin can't go on her camping trip and hook up with her co-worker Sandy Rivers. Ted shows up outside Robin's apartment, so she invites him up, they get together. The morning after spending the night with Robin for the first time Ted comes home to find Marshall sitting in the rain holding Lily's engagement ring. Lily and Marshall had broken up so that Lily could move to San Francisco, to accept an art fellowship.
Cast
Main Cast

In order of character appearances

Recurring Cast

In order of character appearances
Episode List: 2005-2006
Image
Title
Writer(s)
Director(s)
Airdate
#
Pilot

Carter Bays
Craig Thomas

Pamela Fryman

September 19, 2005

1x01
Future Ted begins telling his two kids the story of how he met their mother. He introduces Barney, Lily, Marshall and Robin, telling his kids how Lily and Marshall got engaged and how he met Robin.
Purple Giraffe

Carter Bays
Craig Thomas

Pamela Fryman

September 26, 2005

1x02
Ted continues to try and impress Robin, by throwing three parties to make himself seem more casual. Marshall cannot return Lily's heightened affections, as he stresses over an essay. Barney needs to get rid of a girl, who keeps showing up at all of the parties.
Sweet Taste of Liberty

Chris Miller
Phil Lord

Pamela Fryman

October 3, 2005

1x03
Barney convinces Ted to pick up girls somewhere new. Lily and Robin go for a girls' night out. While Marshall is studying, he keeps receiving calls from Ted and Barney.
Return of the Shirt

Kourtney Kang

Pamela Fryman

October 10, 2005

1x04
After reuniting with an old shirt, Ted attempts to get back together with an ex. Barney dares Robin to say inappropriate things on television.
Okay Awesome

Chris Harris

Pamela Fryman

October 17, 2005

1x05
Ted and Barney join Robin at a nightclub where she is on the VIP list. Meanwhile, Lily and Marshall host a wine and cheese tasting night with other couples at the apartment.
Slutty Pumpkin

Brenda Hsueh

Pamela Fryman

October 24, 2005

1x06
Ted goes to a Halloween party hoping to reunite with a girl he met four years ago. Barney tries to convince him to ditch that party for a better one. Marshall and Lily go on a double date with Robin and her boyfriend.
Matchmaker

Chris Marcil
Sam Johnson

Pamela Fryman

November 7, 2005

1x07
Barney and Ted visit a matchmaker who tries to find Ted the perfect woman. Marshall and Lily find a strange creature in the apartment.
The Duel

Gloria Calderon Kellet

Pamela Fryman

November 14, 2005

1x08
Ted reconsiders his offer to let Lily move in with him and Marshall. Barney attempts to revolutionize the first date.
Belly Full of Turkey

Chris Miller
Phil Lord

Pamela Fryman

November 21, 2005

1x09
Lily and Marshall head to Minnesota to spend the holiday with his family. Robin and Ted want to volunteer at a soup kitchen and are surprised to learn that Barney works there year-round.
The Pineapple Incident

Carter Bays

Pamela Fryman

November 28, 2005

1x10
The gang tries to reconstruct what happened to Ted the previous night after he wakes up with a pineapple, a girl he believes to be Robin and no memory of the evening.
The Limo

Sam Johnson
Chris Marcil

Pamela Fryman

December 19, 2005

1x11
It's New Year's Eve 2005 and Ted rents a limo for him and the gang and plans out the ideal way to ring in the New Year. Unfortunately, things don't go as planned.
The Wedding

Kourtney Kang

Pamela Fryman

January 9, 2006

1x12
Ted invites Robin to be his "plus one" at a wedding but his plans lead to unexpected trouble with the bride and groom.
Drumroll, Please

Gloria Calderon Kellet

Pamela Fryman

January 23, 2006

1x13
Ted falls for a girl he meets at a wedding but he has no way to find her again the next day. Robin confronts her feelings for Ted and Marshall obsesses over the wedding cake.
Zip, Zip, Zip

Brenda Hsueh

Pamela Fryman

February 6, 2006

1x14
Ted and Victoria change their mind about waiting to have sex. Marshall and Lily celebrate their nine year anniversary at home. Robin and Barney have a bro's night out.
Game Night

Chris Harris

Pamela Fryman

February 27, 2006

1x15
Marshall plans a game night with the gang and Victoria, which leads to each person revealing the most embarassing moment of their lives.
Cupcake

Suzie Mamann-Greenburg
Maria Ferrari

Pamela Fryman

March 6, 2006

1x16
Ted and Victoria must decide the future of their relationship when she is offered a fellowship in Germany. Barney takes Marshall to buy a new suit. Robin and Victoria accompany Lily to try on wedding dresses.
Life Among the Gorillas

Craig Thomas
Carter Bays

Pamela Fryman

March 20, 2006

1x17
Marshall changes his personality to fit in at his new job. Ted struggles with his long-distance relationship with Victoria.
Nothing Good Happens After 2 A.M.

Craig Thomas
Carter Bays

Pamela Fryman

April 10, 2006

1x18
Convinced Victoria is about to dump him, Ted accepts an invitation to a late-night rendezvous with Robin who has a rough day at work. Lily, Barney and Marshall party with Korean Elvis.
Mary the Paralegal

Chris Harris

Pamela Fryman

April 24, 2006

1x19
Robin invites the gang to an awards banquet. Barney offers to hook Ted up with a prostitute. Ted tries to be cool with Robin's date, Sandy Rivers. Lily deals with the lack of naptime at work.
Best Prom Ever

Ira Ungerleider

Pamela Fryman

May 1, 2006

1x20
The gang crashes a prom to see a band Lily and Marshall want to book for their wedding.
Milk

Carter Bays
Craig Thomas

Pamela Fryman

May 8, 2006

1x21
Ted is forced to a postpone a date with the "perfect woman" when Lily needs his help. Barney conscripts Marshall in a vicious prank war.
Come On

Carter Bays
Craig Thomas

Pamela Fryman

May 15, 2006

1x22
Ted makes a final attempt to win Robin's heart. Marshall and Lily's relationship is in jeopardy.
External Links