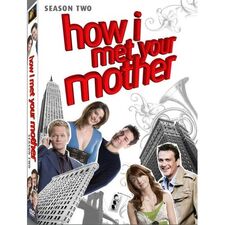 Season 2 of How I Met Your Mother aired from September 18, 2006 to May 14, 2007 and contained 22 episodes from Where Were We? to Something Blue. Starting with this season, each episode would regularly feature cold opens with original footage instead of directly cutting to the opening titles, which was the norm in Season 1.
Synopsis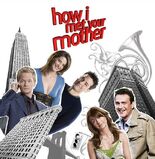 Ted
and
Robin
are now a couple, and a heartbroken
Marshall
tries to continue his life without
Lily
. Realizing she is not an artist, Lily returns to New York. She is reunited with Marshall, and the season culminates in their marriage.
Barney
loses a "
slap bet
," which permits Marshall to slap him in the face five times at any given time in the future, whenever Marshall chooses, which he does twice during this season. The first occurs in the same episode, and the second when Barney puts on a one-man show (
Stuff
). It is revealed that Barney has a
gay, black brother
(
Wayne Brady
). Barney believes that
Bob Barker
is his father and takes a trip to California to be a contestant on
The Price is Right
. Everyone discovers Robin was a Canadian teen pop star in the early 90s, with a hit single "
Let's Go To The Mall
". The music video is viewed by Barney hundreds of times.
In the season finale, Ted reveals to Barney that he and Robin have been broken up for some time due to their conflicting views on marriage. They didn't tell anyone in order to avoid taking attention away from Lily and Marshall's wedding. The season ends with Barney excited at the prospect of Ted and himself being single guys on the town again.
Cast
Episode List: 2006-2007
Image
Title
Writer(s)
Director(s)
Airdate
#
Where Were We?

Carter Bays
Craig Thomas

Pamela Fryman

September 18, 2006

2x01
Marshall is depressed over his and Lily's break up. Things get worse when he learns she might be back in town.
The Scorpion and the Toad

Carter Bays
Craig Thomas
Chris Harris

Rob Greenberg

September 25, 2006

2x02
Barney helps Marshall get back into the singles' scene. Lily is back in town and Ted and Robin try to learn the truth about how she feels about the breakup.
Brunch

Stephen Lloyd

Pamela Fryman

October 2, 2006

2x03
Ted discovers that his parents are keeping a secret from him after his dad acts as Barney's wingman. Marshall and Lily try to get each other aroused. Robin doesn't understand Ted's mother's reaction to her.
Ted Mosby: Architect

Kristin Newman

Pamela Fryman

October 9, 2006

2x04
Barney tells Ted that single women like architects. But will Ted use this useful tidbit of information to cheat on Robin after they have their first fight?
World's Greatest Couple

Brenda Hsueh

Pamela Fryman

October 16, 2006

2x05
Things get weird when Lily moves in with Barney. Marshall's relationship with Brad gets out of hand.
Aldrin Justice

Jamie Rhonheimer

Pamela Fryman

October 23, 2006

2x06
Ted gets Lily a job as an office assistant at his architecture firm. Barney tries to seduce Marshall's law professor.
Swarley

Greg Malins

Pamela Fryman

November 6, 2006

2x07
Marshall goes on his first date since the break up with Lily much to her dismay. Barney gets a new nickname.
Atlantic City

Maria Ferrari

Pamela Fryman

November 13, 2006

2x08
Marshall and Lily elope to Atlantic City, but they discover that getting married in Atlantic City isn't as easy as getting married in Las Vegas.
Slap Bet

Kourtney Kang

Pamela Fryman

November 20, 2006

2x09
Ted tries to uncover a secret about Robin's past. Barney and Marshall have a slap bet riding on the outcome and Lily serves as the Slap Bet Commissioner.
Single Stamina

Kristin Newman

Pamela Fryman

November 27, 2006

2x10
Barney's gay, black brother comes to town to serve as a wingman and the gang discovers a secret he is keeping from Barney.
How Lily Stole Christmas

Brenda Hsueh

Pamela Fryman

December 11, 2006

2x11
A rift forms between Lily and Ted after they find an old answering machine message where Ted badmouths Lily after she left Marshall.
First Time In New York

Gloria Calderon Kellet

Pamela Fryman

January 8, 2007

2x12
Robin tries to talk her younger sister, who is visiting NYC, not to lose her virginity. The gang all recount tales of their own first times.
Columns

Matt Kuhn

Rob Greenberg

January 22, 2007

2x13
Ted struggles to fire an employee. Meanwhile, Barney and Robin find an old nude portrait of Marshall that Lily painted, which prompts Barney to hire Lily to paint him.
Monday Night Football

Carter Bays
Craig Thomas

Rob Greenberg

February 5, 2007

2x14
The gang must postpone their viewing of the Super Bowl and must avoid hearing about the game until then.
Lucky Penny

Jamie Rhonheimer

Pamela Fryman

February 12, 2007

2x15
Ted recounts events leading up to being too late for a flight: Barney runs the Marathon in Marshall's stead, Lily and Robin camp outside a shop for a sale.
Stuff

Kourtney Kang

Pamela Fryman

February 19, 2007

2x16
Robin is upset when she learns how much of Ted's stuff came from his exes. Barney gets revenge on Lily for making him see her bad play by putting on a play of his own.
Arrivederci, Fiero

Chris Harris

Pamela Fryman

February 26, 2007

2x17
Marshall's Fiero breaks down. The gang each recall memorable times in the car and how it brought them closer together.
Moving Day

Maria Ferrari

Pamela Fryman

March 19, 2007

2x18
Ted plans to move in with Robin, but Barney steals the moving truck until he can convince Ted not to move in. Meanwhile, Lily and Marshall experience living without Ted for the first time.
Bachelor Party

Carter Bays
Craig Thomas

Pamela Fryman

April 9, 2007

2x19
Ted plans Marshall's bachelor party but Barney can't help intervening. Meanwhile, things get awkward when Robin brings a provocative gift to Lily's bachelorette party.
Showdown

Gloria Calderon Kellet

Pamela Fryman

April 30, 2007

2x20
Ted plans his best man speech for Marshall and Lily's wedding. Robin helps Lily gain weight to fit into her wedding dress. Meanwhile, Barney trains for an appearance on the Price is Right.
Something Borrowed

Greg Malins

Pamela Fryman

May 7, 2007

2x21
Marshall and Lily are about to get married but the wedding is becoming one disaster after another.
Something Blue

Carter Bays
Craig Thomas

Pamela Fryman

May 14, 2007

2x22
At Marshall and Lily's wedding reception, Robin and Ted unveil a shocking secret.
External Links