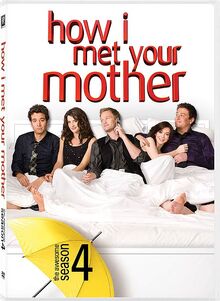 Season 4 of How I Met Your Mother aired from September 22, 2008 to May 18, 2009 and contained 24 episodes from Do I Know You? to The Leap.
Synopsis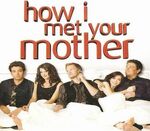 Stella
says "yes" to
Ted
's proposal.
Robin
takes a new job in Japan, but quickly resigns, returning to New York to attend Ted's wedding. Stella leaves Ted at the altar to get back together with the father of her
daughter
,
Tony
.
Barney
struggles with his feelings for Robin as his company shifts him to the management team of a new acquisition,
Goliath National Bank
(GNB).
Marshall and Lily move to their new apartment and debate over whether or not they're ready to have children. Robin becomes roommates with Ted and gets a job as an anchor for a 4:00 A.M. news show after Barney sends out her video resume. Ted finds out about Barney's feelings for Robin when Ted and Robin sleep together constantly so they won't fight over each others bad co-living habits.
Ted is asked to design the new GNB headquarters but he is fired after the plans for the new building is scrapped. Because of this, Ted loses his job and then starts his own company, Mosbius Designs.
Ted finds out Lily has sabotaged all of his relationships with anyone she doesn't approve of and indirectly may have inspired his breakup with Robin. Robin and Ted end up talking about it, causing their friendship to begin moving towards a positive note. As Barney finally sleeps with his 200th woman, after rubbing it in the face of the childhood bully that taunted him into pursuing it, he questions what the rest of his life would be about now, leaving him more certain of his feelings for Robin.
Ted, while carrying the yellow umbrella, bumps into Stella and Tony. Tony later decides to visit him, sympathizing with Ted over his loss of Stella. Tony offers him a job as a professor of architecture, which Ted initially turns down. Lily abandons the group and disappears for four weeks after hearing a dirty joke from Barney.
In the season finale, Robin finds out about Barney's love for her, which she cautiously reciprocates. Ted decides he is done being an architect and finally decides to instead teach architecture classes. The finale ends with Ted stating that the mother was in the first class he went into.
Cast
Main Cast

In order of character appearances

Recurring Cast

In order of character appearances
Episode List: 2008 - 2009
Image
Title
Writer(s)
Director(s)
Airdate
#
Do I Know You?

Carter Bays
Craig Thomas

Pamela Fryman

September 22, 2008

4x01
Ted and Stella get engaged, but Ted soon learns that he doesn't know anything about her. Meanwhile, Barney confesses to Lily that he's in love with Robin.
The Best Burger in New York

Carter Bays
Craig Thomas

Pamela Fryman

September 29, 2008

4x02
When Marshall first moved to New York, he found a small burger place that made, "the best burger in New York". Now, to cheer up the jobless Marshall, the gang decide to track it down.
I Heart NJ

Greg Malins

Pamela Fryman

October 6, 2008

4x03
Tired of having to constantly travel back and forth between New Jersey and New York to spend time with Stella and the gang, Ted convinces the gang to go to New Jersey. Meanwhile, Robin's career is in jeopardy.
Intervention

Stephen Lloyd

Michael Shea

October 13, 2008

4x04
Ted, Marshall and Lily all prepare to move out of their apartment, and Robin prepares to leave to Japan. In doing so, they reminisce about their past, including interventions that they held for one another.
Shelter Island

Chris Harris

Pamela Fryman

October 20, 2008

4x05
The gang all attend Ted's wedding on Shelter Island, where Barney plans to get Robin drunk so he can have sex with her.
Happily Ever After

Jamie Rhonheimer

Pamela Fryman

November 3, 2008

4x06
After Ted's break up with Stella, the gang bump into her in a restaurant and, while hiding under a table waiting for her to leave, recount other people in their lives they're avoiding.
Not a Father's Day

Robia Rashid

Pamela Fryman

November 10, 2008

4x07
While Barney celebrates not being a father, Marshall and Lily decide whether or not they want to become parents.
Woooo!

Carter Bays
Craig Thomas

Pamela Fryman

November 17, 2008

4x08
Ted designs a building for Barney and Marshall's workplace, while Robin becomes friends with Lily's coworkers.
The Naked Man

Joe Kelly

Pamela Fryman

November 24, 2008

4x09
Ted walks in on Robin's date, Mitch, attempting to perform a technique he's dubbed "The Naked Man", to pick up girls. When the gang find out that it worked on Robin, Lily, Barney and Ted all attempt it.
The Fight

Theresa Mulligan Rosenthal

Pamela Fryman

December 8, 2008

4x10
MacLaren's bartender Doug gets into a fight and draws Barney and Ted (but not Marshall) in. Robin thinks fighting is hot.
Little Minnesota

Chuck Tatham

Pamela Fryman

December 15, 2008

4x11
Ted's sister, Heather, is moving to New York and Ted tries to keep her away from Barney. Meanwhile, Marshall takes Robin to the bar he goes to when he's feeling down, but she fits in a bit too well with the Minnesotan-theme.
Benefits

Kourtney Kang

Pamela Fryman

January 12, 2009

4x12
Ted and Robin start having sex to avoid arguments, now that they live together (much to Barney's dismay). Meanwhile, Marshall feels judged for reading magazines at work.
Three Days of Snow

Matt Kuhn

Pamela Fryman

January 19, 2009

4x13
Three stories unfold during a snowstorm in NYC: Ted and Barney take over MacLaren's, Marshall and Robin talk about romantic rituals while picking up Lily from the airport while she races to buy Marshall a souvenir of her trip.
The Possimpible

Jonathon Groff

Pamela Fryman

February 2, 2009

4x14
When Robin learns she has to find a job or risk being deported, Barney helps her make a video resume. Lily, Marshall and Ted all examine their own resumes.
The Stinsons

Carter Bays
Craig Thomas

Pamela Fryman

March 2, 2009

4x15
The gang learn Barney has been living a secret life with a wife and son for his mother. Lily tells Marshall how she really feels about his mother.
Sorry, Bro

Craig Gerard
Matthew Zinman

Pamela Fryman

March 9, 2009

4x16
Ted hooks up with his pretentious ex-girlfriend, Karen, whom Lily and Marshall despise. Marshall goes into work with no pants and Barney makes fun of him.
The Front Porch

Chris Harris

Rob Greenberg

March 16, 2009

4x17
Karen breaks up with Ted. He discovers that Lily was responsible and has been meddling with his relationships for years. The gang stays up late to watch Robin's morning show and Barney is seduced by Marshall's nightgown.
Old King Clancy

Jamie Rhonheimer

Pamela Fryman

March 23, 2009

4x18
Ted's project to design a new building for Goliath National Bank gets scrapped but Barney and Marshall pretend it wasn't to spare his feelings. Robin admits she once went home with a celebrity who made an unusual sex request.
Murtaugh

Joe Kelly

Pamela Fryman

March 30, 2009

4x19
Ted and Barney challenge each other to things they are too old and too young to do, respectively. Marshall helps Lily coach kindergarten basketball.
Mosbius Designs

Kourtney Kang

Pamela Fryman

April 13, 2009

4x20
Ted tries to start his own architecture firm but Robin keeps sleeping with his new assistant—much to Barney's dismay. Marshall tries to ensure job security and Barney turns to him for advice after offending Lily.
The Three Days Rule

Greg Malins

Pamela Fryman

April 27, 2009

4x21
Ted gets a girl's number but decides to text instead of waiting three days (as per the rule) to call her. Marshall and Barney decide to have some fun with Ted.
Right Place, Right Time

Stephen Lloyd

Pamela Fryman

May 4, 2009

4x22
Ted recounts the series of events that led to him being in the right place at the right time for a life-changing encounter. Barney prepares for his 200th conquest and Marshall abuses the Graphics Department at GNB.
As Fast As She Can

Carter Bays
Craig Thomas

Pamela Fryman

May 11, 2009

4x23
Ted has an awkward run in with Stella and Tony, prompting Tony to apologize for "stealing" Stella by offering Ted a job. Meanwhile, Robin and Marshall recount times they talked their ways out of speeding tickets, after Barney fails to do so.
The Leap

Carter Bays
Craig Thomas

Pamela Fryman

May 18, 2009

4x24
It's Ted's 31st birthday, but he's stuck inside designing a restaurant, despite Marshall's attempts to get him to leave. Barney finally confesses his feelings to Robin.
Notes and Trivia
This is the first season to contain 24 episodes. All subsequent seasons had 24 episodes.
Both Alyson Hannigan and Cobie Smulders were pregnant during the fourth season, so their character's are seen wearing loose clothing, and holding large objects to cover their stomachs. 
Alyson Hannigan's pregnancy was referenced throughout most of the season.
During the episode The Possimpible, Lily is shown competing in two hot dog eating contest (one in a flashback and one in the present) where she has a visibly enlarged stomach.
When Marshall attempts to jump across the roof to the neighboring apartment building in The Leap, Lily tries to stop him by claiming she's pregnant. She then feels insulted when Marshall says that he noticed that she's been gaining weight recently.
Lily's disappearance from the group after hearing Barney's dirty joke was actually her maternity leave.  
External Links