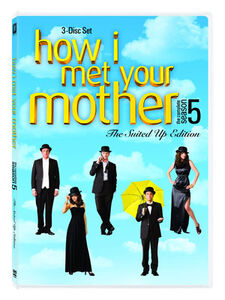 Season 5 of How I Met Your Mother aired from September 21, 2009 to May 24, 2010 and contained 24 episodes from Definitions to Doppelgangers.
Synopsis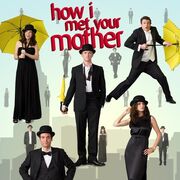 Ted
starts his first day as an architecture professor, standing in the middle of a classroom in which
the mother
was present, but it turns out not to be the architecture class he is supposed to teach, instead he is in an economics class.
Barney
and
Robin
have had a sexual relationship throughout the summer, but are not ready to label their relationship. However,
Lily
locks them in a room, forcing them to come to terms with their relationship. They date for a few weeks, but after a rough patch, they decide to break up. Robin describes it instead as "two friends getting back together." Barney immediately goes back to his old ways, using
the playbook
to score with women.
Marshall
uses his fourth slap on Barney. Ted dates a graduate student named
Cindy
(
Rachel Bilson
) and it is revealed that her roommate is his
future wife
.
Robin gets a new co-anchor on her show Come On, Get Up New York!, named Don. Although Robin initially dislikes him due to his unprofessional manner, the two start dating, and Robin later moves in with him. Robin later get a call from WNKW in Chicago, offering her the anchor job. Robin turns it down, keeping her relationship with Don ahead of her career, but is devastated when Don tells her that he took the same job.
Lily and Marshall are unsure about having a baby, and they decide that they will start trying when they spot the fifth (Barney's) doppelganger. They finally spot Barney's doppelganger, as a brunette cab driver, and decide to start trying to have a baby. It turns out that the cab driver was actually Barney, and he had worn the disguise to try to pick up women. When Marshall finds this out, he decides not to tell Lily, fearing she will want to wait even longer to have children. Lily eventually finds out and decides to wait. A few months later, Lily thinks she has spotted Barney's doppelganger as a hot dog vendor, which causes the group to realize she is seeing what she wants to see, and play along. They then tell Marshall that she is ready to have a baby.
Cast
Main Cast

In order of character appearances

Recurring Cast

In order of character appearances
Episode List: 2009 - 2010
Image
Title
Writer(s)
Director(s)
Airdate
#
Definitions

Carter Bays
Craig Thomas

Pamela Fryman

September 21, 2009

5x01
The gang uncover Barney and Robin's recent romance and Lily forces them to "define the relationship". Ted must decide what kind of professor he is going to be.
Double Date

Matt Kuhn

Pamela Fryman

September 28, 2009

5x02
Ted has a blind date, and discovers its the same date he was on seven years ago. They retrace their steps from their first date to see where they went wrong. Meanwhile, Marshall and Barney go to a strip club and find a stripper who looks exactly like Lily.
Robin 101

Carter Bays
Craig Thomas

Pamela Fryman

October 5, 2009

5x03
Robin thinks Barney is cheating on her, but instead he's been taking "Robin 101" classes from Ted. Meanwhile, Marshall tries to give away his barrel, but is upset that no one seems to want it.
The Sexless Innkeeper

Kourtney Kang

Pamela Fryman

October 12, 2009

5x04
Barney tells Ted he's been used after a girl stays over but doesn't have sex with Ted. Barney and Robin suffer through an awkward "couple's night" with Marshall and Lily.
Duel Citizenship

Chuck Tatham

Pamela Fryman

October 19, 2009

5x05
Robin faces deportation so Barney decides to help her become an American citizen. Ted and Marshall go a road trip to relive their college days but Marshall invites Lily along.
Bagpipes

Robia Rashid

Pamela Fryman

November 2, 2009

5x06
Lily and Marshall have relationship problems, while Ted tries to determine if Barney and Robin's relationship is really going as well as it appears.
The Rough Patch

Chris Harris

Pamela Fryman

November 9, 2009

5x07
Robin and Barney's relationship is tearing them apart so Ted and Marshall get Lily to help break them up.
The Playbook

Carter Bays
Craig Thomas

Pamela Fryman

November 16, 2009

5x08
Barney dusts off his playbook filled with strategies on how to pick up women and Lily seeks to put a stop to it. Ted and Marshall insist Robin is about to fall in love.
Slapsgiving 2: Revenge of the Slap

Jamie Rhonheimer

Pamela Fryman

November 23, 2009

5x09
Thanksgiving 2009: After being granted the 'fourth slap' from Marshall, Ted and Robin Argue over who deserves it most. Meanwhile, Lily struggles to forgive her distant father after he arrives unexpectedly.
The Window

Joe Kelly

Pamela Fryman

December 7, 2009

5x10
Ted finds out a girl he likes is finally single. The gang must keep her single long enough to seal the deal. Barney tries to pick up a girl wearing overalls and Marshall deals with a letter from himself.
Last Cigarette Ever

Theresa Mulligan Rosenthal

Pamela Fryman

December 14, 2009

5x11
Marshall restarts smoking to relate with his boss. The rest of the gang join him and then try to stop. Robin has to deal with an unprofessional co-anchor, Don.
Girls Versus Suits

Carter Bays
Craig Thomas

Pamela Fryman

January 11, 2010

5x12
Barney must abandon suits to sleep with a hot bartender who hates men in suits. Ted gets closer than ever to meeting The Mother.
Jenkins

Greg Malins

Neil Patrick Harris

January 18, 2010

5x13
Lily doesn't react the way Marshall would expect when she is introduced to a female coworker. Ted's students use Robin's morning show as a drinking game.
Perfect Week

Craig Gerard
Matthew Zinman

Pamela Fryman

February 1, 2010

5x14
Barney tries to land the perfect week: seven women in seven days. Meanwhile, the rest of the gang are all having a terrible week.
Rabbit or Duck

Carter Bays
Craig Thomas

Pamela Fryman

February 8, 2010

5x15
Robin can't decide if she likes Don. Barney gets a "magical" cell phone that doesn't stop ringing. Ted asks Marshall and Lily to set him up for Valentine's Day.
Hooked

Kourtney Kang

Pamela Fryman

March 1, 2010

5x16
When a beautiful young woman "hooks" Ted (keeping Ted in reserve as backup while she pursues her own dream boyfriend), the gang discusses their own experiences both as the one who "hooks" and the one on the hook. Guest starring Carrie Underwood as "Tiffany".
Of Course

Matt Kuhn

Pamela Fryman

March 8, 2010

5x17
Barney tries to sleep with a woman who wrote a book on how to avoid men like Barney. The gang learns that Robin is still taking her break up with Barney hard. Robin deals with her newly realized feelings for Don.
Say Cheese

Robia Rashid

Pamela Fryman

March 22, 2010

5x18
Marshall has planned an intimate party for Lily's 32nd birthday. But things get awkward when Ted shows up with a date. Meanwhile, Robin tries to get a bad picture of Barney.
Zoo or False

Stephen Lloyd

Pamela Fryman

April 12, 2010

5x19
Marshall comes up with a number of different outrageous and embarrassing stories to explain how he was mugged in Central Park, but which of his stories is the truth?
Home Wreckers

Chris Harris

Pamela Fryman

April 19, 2010

5x20
Ted reacts to his mother's second marriage by buying a house. Barney makes fun of Robin for crying at the wedding.
Twin Beds

Theresa Mulligan Rosenthal

Pamela Fryman

May 3, 2010

5x21
Don and Robin plan to move in together, prompting Ted and Barney to realize neither is over Robin yet. Marshall and Lily realize they enjoy sleeping in separate beds.
Robots Versus Wrestlers

Jamie Rhonheimer

Rob Greenberg

May 10, 2010

5x22
While Barney, Lily and Marshall watch a Robots vs. Wrestlers event, Ted attends a sophisticated kind of party. Robin continues avoiding the group to build a better relationship with Don.
The Wedding Bride

Stephen Lloyd

Pamela Fryman

May 17, 2010

5x23
Tony's movie, The Wedding Bride, is released. It turns out to be based entirely around the wedding between Ted and Stella and Tony's involvement. However, in the movie, Ted is a villian and Tony is a hero. The gang all see the movie and reflect upon it.
Doppelgangers

Carter Bays
Craig Thomas

Pamela Fryman

May 24, 2010

5x24
Marshall and Lily spot Barney's doppelganger, fulfilling the requirements they set to start trying to have a baby. Robin is offered a better job in Chicago, and is in a dilemma about what to do.
Notes and Trivia
This is the only season where Ted did not have a girlfriend that lasted for more than one episode.
External Links