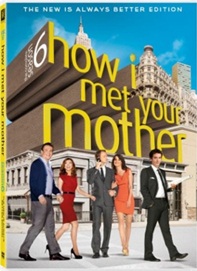 Season 6
of
How I Met Your Mother
aired from September 20, 2010 to May 16, 2011 and contained 24 episodes from
Big Days
to
Challenge Accepted
. 
Synopsis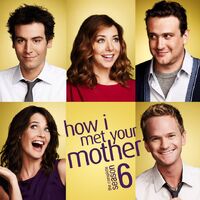 Ted
sees
Cindy
again with a
girl
, who he thinks to be
her roommate
, but turns out to be Cindy's girlfriend whom she later marries and has a child with. It is revealed Ted first meets his future wife while being the best man at a wedding (where he is caught in the rain without an umbrella). While packing up their mother's house,
James
and
Barney
find an unsent letter to
Sam Gibbs
, which leads to their discovery that Sam Gibbs is James' father.
Loretta
offers the identity of Barney's father on a sheet of paper, but Barney tears it up after realizing Loretta's efforts as a single mother.
Robin
eventually forgets
Don
's number, and declares she's finished with their relationship. Robin's new co-anchor,
Becky
, steals the spotlight, which frustrates Robin. Ted rejects the offer of
Goliath National Bank
(GNB) to design the previously scrapped new headquarters, but accepts it later. The GNB Headquarters is supposed to be built over an old building,
The Arcadian
. This gets Ted into a rivalry with
Zoey Pierson
(
Jennifer Morrison
), a beautiful girl who's upset about the landmark being torn down. Barney discovers the man he called his
uncle
when he was young is really his father, but asks Robin not to tell the rest of the group.
Future Ted
reveals that
Marshall
would end up leaving GNB in the near future but doesn't say for where.
Ted proves a point to the group by calling up his old friend Punchy, which causes him to impulsively show up in New York. Later, he asks Ted to be his best man at the wedding. Seemingly, this is the wedding shown at the beginning of season six, where Ted must give his speech. However, since then, Robin has asked Ted to be her best man whenever she gets married. Ted and the gang have Thanksgiving dinner at Zoey's house, and Ted and Zoey become friends, though they struggle with their feelings for each other.
Meanwhile, Robin gets a new job at World Wide News, reunited with her former annoying co-host, Sandy Rivers.
Marshall suspects that he is the reason Lily can't get pregnant after meeting a fertility doctor who also happens to be Barney's doppelganger. He learns that he is completely fertile and is overjoyed, but moments later receives bad news that his father has died of a heart attack. The gang tries to support Marshall, and Lily tries to help his mom during Marshall's father's funeral, but Marshall becomes preoccupied when he discovers that he has one final voicemail message from him. Barney calls his mom and tells her that he is finally ready to meet his real dad.
Ted reveals that he is in love with Zoey, but since Zoey is married, he breaks off his friendship with her. Zoey is also in love with Ted, and is getting a divorce from her husband. Since both don't know how the other person feels, Marshall tells each of them about their feelings, and Ted about Zoey's divorce, and they kiss.
This season, Barney meets one of Robin's friends, Nora (Nazanin Boniadi). He likes her right away, although he does not notice it when he tries to sweet-talk her pretending to be a romantic. However, the next day they play laser tag and he begins to like her even more but is reluctant to admit it. He begins dating her when the group (especially Robin) urges him to. Yet, when he actually almost begins to love her, he ends their relationship by lying about his feelings. Barney then wants to fix the relationship, but is too scared to, when he realizes that he does actually want to settle down one day in the future. Barney finally meets his dad (John Lithgow), but is disappointed to see that his dad is not what he expected him to be.
Marshall wants to quit GNB. Lily supports him with that decision, this makes Marshall unemployed. Marshall and Ted decide to help The Arcadian and are against Barney. Finally Ted decides to testify against Zoey's cause and they break up. In the season finale, Lily finds out that she is pregnant. Ted runs into Zoey and she wants to get back together, but Robin and Barney convince Ted not to get back together with her. Barney runs into Nora and asks her for coffee as Robin watches from behind, seemingly appearing as if she has feelings for Barney.
The last scene is of the future wedding, shown in the first episode of the season, and it turns out to be Barney's. This leaves the viewers with one big question: Who is Barney Stinson marrying?
Cast
Main Cast

In order of character appearances

Recurring Cast

In order of character appearances
Episode List: 2010 - 2011
Image
Title
Writer(s)
Director(s)
Airdate
#
Big Days

Carter Bays
Craig Thomas

Pamela Fryman

September 20, 2010

6x01
When Ted and Barney argue about who has "dibs" on a hot girl, Ted realizes that she is there with Cindy, a girl he dated whose roommate is his future wife. Meanwhile, Robin is heartbroken over Don, and Marshall can't keep quiet about his desire to start a family.
Cleaning House

Stephen Lloyd

Pamela Fryman

September 27, 2010

6x02
Barney convinces the gang to help him and his brother James pack their mother's house to move. Barney reexamines his childhood and clues are found to his and James's paternity. Ted is upset that Robin 'oversells' him to a blind date.
Unfinished

Jamie Rhonheimer

Pamela Fryman

October 4, 2010

6x03
Barney attempts to use his womanizing tactics on Ted after he turns down the chance to finish the new GNB headquarters. Robin still has unfinished business with Don.
Subway Wars

Chris Harris

Pamela Fryman

October 11, 2010

6x04
When the gang teases Robin about not being a "real" New Yorker, she sets out to prove them all wrong. The gang all race to catch a glimpse of Woody Allen.
Architect of Destruction

Carter Bays
Craig Thomas

Pamela Fryman

October 18, 2010

6x05
Ted reconsiders being head architect of the new GNB building when he meets a girl who wants to save the old building being torn down to make room for it. Marshall is uncomfortable while hearing the way Robin and Lily share intimate details about their men.
Baby Talk

Joe Kelly

Pamela Fryman

October 25, 2010

6x06
Marshall and Lily worry a lot about baby names and genders. Robin can't stand her new co-host and Ted makes things worse when he dates her. Barney accepts another challenge.
Canning Randy

Chuck Tatham

Pamela Fryman

November 1, 2010

6x07
Zoey causes trouble by enrolling in Ted's class. Marshall has to fire his first employee. Lily tries to find out who Robin slept with.
Natural History

Carter Bays
Craig Thomas

Pamela Fryman

November 8, 2010

6x08
The gang attends a black tie fundraiser at the Natural History Museum and Ted sees a whole different side of Zoey when she introduces him to her husband. Barney and Robin dare each other to break the museum law: touch all of the exhibits.
Glitter

Kourtney Kang

Pamela Fryman

November 15, 2010

6x09
The gang learns more about Robin Sparkles. Lily worries about her and Robin's relationship with the upcoming pregnancy. Ted's high school friend, Punchy, comes to town.
Blitzgiving

Theresa Mulligan Rosenthal

Pamela Fryman

November 22, 2010

6x10
The "Curse of the Blitz" is passed on after the gang spends a wild evening with bad-luck pal, The Blitz. As a result, they end up spending Thanksgiving with Zoey.
The Mermaid Theory

Robia Rashid

Pamela Fryman

December 6, 2010

6x11
Ted gets closer to Zoey and The Captain. Barney and Lily get in a fight, but Future Ted keeps forgetting what happened. Marshall and Robin spend time together.
False Positive

Craig Gerard
Matthew Zinman

Pamela Fryman

December 13, 2010

6x12
Marshall and Lily's false positive has a profound effect on the whole gang. Robin gets a new job, Barney discovers the joy of giving and Ted begins his duties as best man for his friend Punchy's wedding.
Bad News

Jennifer Hendriks

Pamela Fryman

January 3, 2011

6x13
Worried they aren't pregnant yet, Marshall and Lily see a specialist. An old colleague causes trouble for Robin at her new job.
Last Words

Carter Bays
Craig Thomas

Pamela Fryman

January 17, 2011

6x14
The gang console Marshall as he returns to Minnesota upon learning of his father's death, and reflect on what it would be like if their fathers died.
Oh Honey

Carter Bays
Craig Thomas

Pamela Fryman

February 7, 2011

6x15
With Marshall stuck in Minnesota, the gang tell him about their time with Honey, Zoey's beautiful, naïve cousin, and about the new development in Ted and Zoey's friendship.
Desperation Day

Tami Sagher

Pamela Fryman

February 14, 2011

6x16
With Valentine's day approaching, Lily visits Marshall in Minnesota. Ted, nervous about his first Valentine's Day with Zoey, leaves for Minnesota too. A single Robin protests the holiday with her co-workers, while Barney tries to take advantage of dateless women.
Garbage Island

Tom Ruprecht

Michael Shea

February 21, 2011

6x17
Marshall becomes obsessed with saving the environment, Ted runs into The Captain, and Robin tries to prove Barney has feelings for Nora.
A Change of Heart

Matt Kuhn

Pamela Fryman

February 28, 2011

6x18
Barney gets confused feelings when Nora reveals she wants to settle down and marry. The gang mock Robin's new boyfriend, Scooby, who acts like a dog.
Legendaddy

Dan Gregor and Doug Mand

Pamela Fryman

March 21, 2011

6x19
When Barney finally meets his father, he's surprised to learn how his life turned out. The gang points out each other's "gaps", things they should know by adulthood but never learned.
The Exploding Meatball Sub

Stephen Lloyd

Pamela Fryman

April 11, 2011

6x20
Marshall's change of career upsets both Lily and Barney. Zoey's steps to stop Ted's GNB headquarters project causes problems between them.
Hopeless

Chris Harris

Pamela Fryman

April 18, 2011

6x21
When Barney tries to bond with his father, he asks the gang to help make his life seem more exciting by lying about their own lives. Meanwhile, Robin runs into a guy she has a crush on.
The Perfect Cocktail

Joe Kelly

Pamela Fryman

May 2, 2011

6x22
When Marshall and Barney argue over the destruction of the Arcadian Hotel, Robin and Lily try to mix the right combination of cocktails that will force them to make up. Meanwhile, Ted plans a romantic weekend away with Zoey.
Landmarks

Carter Bays
Craig Thomas

Pamela Fryman

May 9, 2011

6x23
When Ted is faced with an important decision that might affect his future with Zoey, the gang expresses their true feelings about her.
Challenge Accepted

Carter Bays
Craig Thomas

Pamela Fryman

May 16, 2011

6x24
Robin and Barney bond when they stop Ted from getting back together with an ex (until they run into Nora), and Marshall and Lily watch a ticking clock as he fears that he soon will be the victim of food poisoning.
External Links