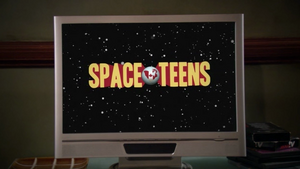 Space Teens was a Canadian kids show starring Robin Sparkles, Jessica Glitter and Alan Thicke. It was about two average teenagers (Robin and Jessica) who solved crimes in space using math. Alan Thicke acted as their guide, assisting them throughout their adventures.
Since Robin has always been secretive (and slightly embarrassed) about her past as Robin Sparkles, the show's existence was unknown to the gang until Barney managed to find a DVD of it in Glitter​.
As the gang watch, they note the similarities between Space Teens and pornography. These include mutiplying 23 and 3 to add up to 69, and the "stripper pole" in the background which Sparkles and Glitter enter on.
Gallery
Community content is available under
CC-BY-SA
unless otherwise noted.