Ted and Marshall

Started Friendship

First year of college

Current Status

Best Friends
General Outline
Background
Ted and Marshall's friendship while they were roommates in college at
Wesleyan University
. Their many road trips in Marshall's Pontiac Fiero, often to
Gazzola's
in Chicago, helped make them "best bros". After college, Ted and Marshall moved to New York City together with Marshall's girlfriend
Lily
. Throughout the show, Ted and Marshall have always been best friends and say it on many occasions.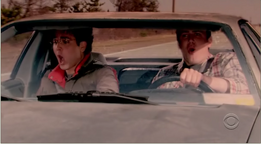 Show Outline
In general, Ted and Marshall always back each other up when one of them is put in a corner by the other members of the group, although there are a few exceptions.
While Marshall was going through every stage of growing up (be engaged - get married - become a parent), Ted stayed behind, which seemed to sting him sometimes. As he said himself, he thought he would be doing the same as Marshall at that point. While Ted is struggling to find the right girl, Marshall is always willing to step in, as he went from their house in Staten Island to New York early in the morning cause Ted wanted to talk to him about something important. As well as ruining his first night alone with Lily for Ted.
Ted, on the other hand, tried to help Marshall, and Lily, where he could when both of them hadn't enough money for their crooked apartment, even selling his car to give them the money.
Ted was Marshall's best man during Marshall's wedding, and it can be presumed that Marshall was Ted's best man as well.
Significant Episodes
Gallery
Community content is available under
CC-BY-SA
unless otherwise noted.