Wiki Targeted (Entertainment)
Play Sound
(Related to: "Thank you, Linus" and 'Linus')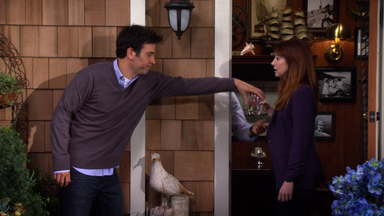 The Phrase "Thank you, Linus" is part of 'The Kennedy-Package Arc'
Over the course of Season 9, It is uttered 17 times in total, most of which by Lily, and once by Tracy. (Episodes: 2, 3, 4, 8, 13 and 20)
Once, Lily says "You're slipping, Linus!" instead, when Linus doesn't hand her a new drink immediately - in response to Lily continuously crushing glasses in a fit of rage. (Episode 8)
Lily is handed a total of 16 drinks by Linus (most notably in Episode 2, where she is handed 5 drinks consecutively), but holds a total of 33 drinks on screen.
She presumably consumes a total of 28 drinks on screen (going by the rate at which glasses are notably drained or recurring scenes appear within a believable timeframe)
Tracy has 3 KP-drinks. (Episodes 13 and 16)
~21 KP-drinks are seen on the table throughout the Season, some of which are either hard to add to the total, due to scene changes (about 9 times) and 2 continuity inconsistencies (most noticeable in Episode 15).

External Links
Community content is available under
CC-BY-SA
unless otherwise noted.