When Marshall gets the job of his dreams, he worries that, once the company discovers videos he made in the past, they may rescind the offer. Meanwhile, Ted can't decide who to take to the Architects' Ball.
Recap
Marshall is still hungover from Punchy's wedding reception, and makes a "sweeping declaration" to never drink again. Future Ted says that Marshall's "sweeping declarations" usually don't work. While at the apartment, he receives a call from Garrison Cootes, the senior partner at Honeywell & Cootes, one of the biggest environmental law firms in America. He informs Marshall that the company is extremely interested in him and will accept him after an extensive background check. The risk of a background check concerns Marshall, who fears that an online video of him streaking through Wesleyan calling himself "Beercules" could result in him not getting the job. He tries to convince the uploader, Pete Durkenson, an old college acquaintance, to remove the video. Pete says that he will remove the video if Marshall beats him in a game of "Edward forty-hands". However, Marshall ends up getting drunk and streaking again and another "Beercules" video is uploaded. Pete's refusal to take it down prompts Lily to blackmail him with certain information that she learned from women who dated him in college. Eventually, Garrison does see the video and tells Marshall that he's hired - the video is not a problem with him.
Thinking about a date with Nora, Barney appears to the gang in crutches and a leg cast, explaining to the gang that he can gain sympathy from Nora this way. He ends up seeing Nora on their date with a neck brace. Nora quickly realizes that he is lying and is about to leave when Barney apologizes and says he lied to her because he likes her and thinks that she is out of his league. He says that he will never lie again to Nora, and tells her to ask him anything. She asks him to tell her every lie he has ever said to have sex with a girl and he starts to explain all the plays he ever made on women, the worst of which irks a woman in another booth whom Barney hit on in the past. Nora leaves, disgusted at what Barney tells her. However, Barney says that to prove to Nora that he will never lie to her again, he vows not to leave the diner until she agrees to a second date. The gang eats at the diner nine hours later and sees Barney wake up. He refuses to make an order several times, and true to his word, does stay at the diner the whole time, which humbles Nora when she comes back.
Ted capitalizes on him being featured in New York magazine to meet women who get a copy of the issue at news stands. He befriends 16 women and dates two of them on separate occasions. With Lily and Robin's help, he is forced to decide on one whom he will take to the exclusive "Architects' Ball." Robin thinks that the event will be boring, but drops hints about an interest to become Ted's date when he claims Lenny Kravitz will be at the event (she is an avid fan of the rock star). When Ted sees Barney at the diner, waiting for Nora, he decides he wants to have real love and winds up taking Robin to the Ball, where she finds out that the Lenny Kravitz Ted was referring to is Leonard Kravitz who is an elderly architect. Visibly annoyed, Robin leaves Ted. Future Ted tells his kids that a person will know for sure about falling in love "pretty quickly and with absolute certainty." While looking at the guests, he sees Victoria arranging cupcakes at a table and they establish eye contact.
Continuity
Future References (Contains Spoilers)
Gallery
For a listing of all images on the wiki tagged as being from this episode, see Category:The Naked Truth images.
Memorable Quotes
Marshall

:
I wanna be the kind of man my child can look up to. So, sweeping declaration, I am never getting drunk again as long as I live. (the rest of the gang laughs) I'm serious! (scene briefly stops so Future Ted can narrate)

Future Ted

:
Kids, it's not that your Uncle Marshall had a drinking problem. But whenever he made a sweeping declaration like that, you pretty much knew... (the next day, Marshall walks in drunk)

Marshall

:
I DID IT AGAIN!

Future Ted

:
But I'm getting ahead of myself.
---
Ted

:
Define serious.

Lily

:
Well, that's complicated. I guess, you have to weigh expectations, emotional investments...

Marshall

:
Third base.

Ted

:
So I can go to second base.

Marshall

:
Yeah, honk away my friend! Honk away.
---
Ted

:
Robin, get me my legal pad. It's Pros and Cons Time! (Robin and Lily start cheering)

Future Ted

:
And kids, they really cheered.
---
Ted

:
16 moments of pure destiny in one day! And of those 16, 10 where single. Of those 10, 7 liked what they saw. Of those 7, 4 were women. Of those 4, 2 gave me their real number, and I have a date with both of them.
---
Future Ted

:
Kids, you can't talk yourself into falling in love. It doesn't take days of deliberation. When it's real, you know pretty quickly, and with absolute certainty. I had forgotten that, but I was about to be reminded.
---
Ted

:
That's right, two lovely ladies, four large cappuccinos, and one sec...

And I don't know which date was more awesome. Let's meet the girls. Jessica is a Rhodes scholar. She's traveled all over the world. Speaks four languages, is a concert pianist. And Claire reached for the check. So I don't know.

It's a squeaker. I mean, both of these girls have the potential to be something really special.
---
Nora

:
Let me make one thing very clear to you. I don't date guys who lie to me.

Barney

:
Well, see, I did not know that. My bad. So, from here on in, no more lies. I will never lie to you again. I'm serious. Ask me anything.

Nora

:
Okay. Have you ever successfully gotten a woman in bed by lying to her?

Barney

:
Have I ever... If I'm being totally honest... Yes.

Nora

:
More than once?

Barney

:
More than once... Wow, that's... I guess if we're splitting hairs, then, technically there was a plurality to the times I've lied to women for sex having purposes.

Nora

:
What were they?

Barney

:
Nines and tens mostly. There was a four once. She was a slump buster. But, Nora, after that, I had a run that you would not believe. Man, honesty feels good.

Nora

:
What were the lies?

Barney

:
You want me to tell you every lie I've ever told a woman to get her into bed?

Nora

:
A bed or any other place you had sex with her.

Barney

:
Oh, you're good.
---
Barney

:
[Many hours later] ...and that concludes all the space-related lies. Let's move on to the world of sports. Oh, wait, sorry; I've thought of another space one. "I've been bitten by a moon snake. You need to suck all the space poison out of my—"

Nora

:
Okay, Barney, uh, I have to be at work tomorrow at 8:00, which means I have just about enough time to sit in a shower for 11 hours, hugging myself.

Barney

:
So this was fun. Can I call you, or?

Nora

:
Barney, you're funny, handsome and really quite clever. But you're also a sociopath.

Barney

:
Well, I count three pros and one con, so...

Nora

:
How do you still think you have a chance with me?

Barney

:
Because you sat here all night. You could've left right away, but you didn't. Look, Nora, all those lies- that's the old me. But I swear to you, I am trying to change. You make me want to change.

Nora

:
How do I know that's not a lie?

Barney

:
I'll prove it. I will prove how serious I am. I will not leave this diner until I get a second date with you.

Nora

:
Good-bye, Barney.

Barney

:
This is a 24-hour diner. I'll stay here forever, if I have to- and I will! (to waitress) Just water for me. Thanks.
—Barney tries to convince Nora to give him another chance
---
Robin

:
Ugh! Ted, deep in your heart, you know that you kind of like one more than the other. Trust me-- take the other.

Ted

:
Um, maybe I haven't this is the Architects' Ball, Robin. It's a star-studded event.

Robin

:
Okay, name one celebrity who's gonna be there.

Ted

:
Uh Lenny Kravitz.

Robin

:
Lenny Kravitz is gonna be there?

Ted

:
Yeah. He's there every year. And that guy's a rock star.

Robin

:
You know, Ted, I've been thinking-- it's too soon to narrow it down between these two girls. Just take a friend. Like I I don't know, maybe, uh, a friend who had a poster of Lenny Kravitz on her wall, and may or may not have, perhaps, dated that poster, on and off, throughout high school.

Ted

:
This pros and cons list isn't cutting it. I need a color chart.

Ted, Robin and Lily

:
Color chart! Color chart!

Future Ted

:
And, kids, we all really chanted.
---
Robin

:
Oh, this? No big deal. This, This cost three months rent, and, uh, I've never gotten to wear it, because I bought it for that big event that you invited me to, which then fell through. But, you know what? Don't feel guilty about that.

Ted

:
What big event?

Robin

:
That thing with your uncle.

Ted

:
His funeral? It didn't fall through, he miraculously came out of a coma.

Robin

:
And I forgive you. Now, can I please meet Lenny Kravitz?.
—Robin looks gorgeous in a black dress and it's trying to convince Ted to take her to his party.
---
Notes and Trivia
Goofs and Errors
Allusions and Outside References
Music
Other Notes
Guests
Podcast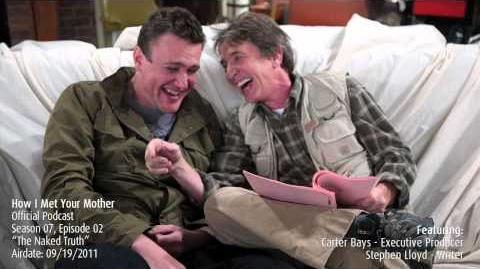 Featuring an interview with Carter Bays and Stephen Lloyd.
Reception
References
External Links
Community content is available under
CC-BY-SA
unless otherwise noted.