Wiki Targeted (Entertainment)
Play Sound
Trevor Hudson

First Appearance

Also known As

The Ring Bear

Trevor Hudson is a bear. He was the ring bearer at Barney and Robin's Wedding.
Episode Appearances
Listed are all episodes in which Trevor is mentioned. His first appearance on screen is in The End of the Aisle.
Notes & Trivia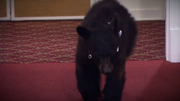 Barney had been wanting a ring bear ever since he was engaged to Quinn. After their breakup, he implemented the idea again when he got engaged to Robin.
Trevor's name was not revealed until Unpause. Before that episode he was simply refered to as the "ring bear".
Barney knows Trevor's mother, which was how he was able to get him for the wedding. How he knows Trevor's mother is a mystery.
Trevor was mentioned all throughout Season 9, but did not make an offical appearance until The End of the Aisle.
Apparently he wasn't the only animal hired to walk down the aisle at the wedding. Barney also booked a flower gorilla, but it was never used.