Wiki Targeted (Entertainment)
Play Sound
For the stories told by Barney, see Fake History Lesson.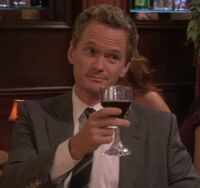 True Story is a catchphrase of Barney Stinson. He uses it after saying something that factually isn't true.
The true stories (excludes fake history lessons):
"When I get sad I stop being sad and be awesome instead. True story." (

Where Were We?

)
"Whenever I start feeling sick, I just stop being sick and be awesome instead. True story." (

How Lily Stole Christmas

)
"Baby and her family spent every summer at Kellerman's. Her dad did not approve of our love." "Did anyone put baby in a corner?" "Oh, god, no. What can I say, I... Had... The time of my life. True story." (

First Time In New York

)
"In my body, where the shame gland should be, there's a second awesome gland. True story." (

Columns

)
"So you made a life changing decision to not change your life at all." "True story." (

Arrivederci, Fiero

)
"Did you know that boutonniere is French for 'booty is near'?. True story." (

Glitter

)
Barney says "true story" after a scene explaining how he lost the

Ducky Tie

(he removed it to help pull up a child hanging from the ledge of a building, it was then stolen by a bird). Lily subsequently walks into the bar holding the tie and says "look what I just found in the trash." (

Disaster Averted

)
While describing how he poisoned and killed every member of the High Council of Players (all played by Neil Patrick Harris): "And thus, my friends, I have become, through methods somewhat gory the Player King of New York City. Boom. The end. True story." (

Bedtime Stories

)
Notes and Trivia
It is usually said after something that he wants you to believe is true, which is often not.
It is also often said after a fake history lesson from Barney. He would commonly say "true story" at the end.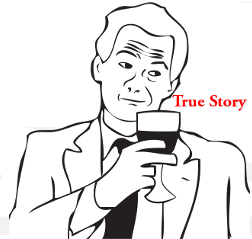 The phrase itself was popular enough to become an internet meme (see right)
Future Ted says it after recounting the time on Come On, Get Up New York! when Bobo the monkey stole a doll and climbed onto Ted's model Empire State Building while Mike threw paper airplanes at it, resembling the ending of the movie King Kong. (

Zoo or False

)
Robin uses the phrase when mocking Barney's newly discovered Canadian ancestry: "This Canadian dollar, here, is called a loonie. And this two dollar coin, a toonie. True story."

The Slutty Pumpkin Returns

.
Community content is available under
CC-BY-SA
unless otherwise noted.