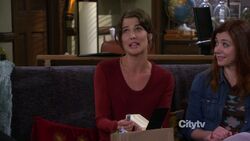 The Truth Voice is the voice Robin uses to act like she doesn't care in a sarcastic way, about something when she actually does care.
In The Best Man, At Punchy's wedding in Cleveland, Robin watches Barney flirt with women, and tries to pretend she doesn't have feelings for Barney. However Lily realized Robin still has feelings for Barney when she uses her "truth voice." Lily tells her that they have chemistry, and Barney must feel it to, since he never called Nora and is almost intentionally striking out with women tonight.
Robin's truth voice had previously outed her love of The Spice Girls, her silent but deadly bodily emissions, and her daddy issues.
Community content is available under
CC-BY-SA
unless otherwise noted.