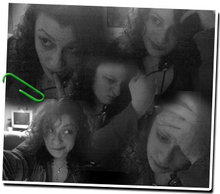 About me
My name is Heather. I am very good with wikis having worked as a reader, editor, admin, and developer with MediaWiki on various projects.
I love wikis.
I'm sorta an admin here but that basically means I can do some cleanup and janitorial stuff. No biggie. Love HIMYM and love working on a nice young wiki. I also run the wiki twitter feed @HIMYM_wiki.
I wrote like half the hardcore templatry here. Anyone who notices the awesome of the variable name templates on the episode pages and sees how cool it is should give me a shout out! Id love to help hook other wikis up with the magic.
I hate spoilers myself but I also love hanging out on wikis. In deference to others like me, I tried to make it so you can look at the entire top half of an episode page and not get any spoilers. This is done by carefully selecting a screenshot and carefully choosing the amount of info in the plot summary. XD
Community content is available under
CC-BY-SA
unless otherwise noted.