Wiki Targeted (Entertainment)
Play Sound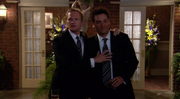 Wait for it is a phrase primarily used by Barney as an interjection to suggest drama. It is most frequently interjected into another of Barney's catchphrases, legendary. Other characters have been known to use it on occasion.
"Wait for it" was the last line of Season 2. Barney finished in the opening of Season 3 making that the longest time the audience had to wait for it.
In The Magician's Code - Part One, Marshall and Lily's son is named after his late grandfather, and given the middle name "Wait-for-it", proposed by Barney.
Quotes
Barney

:
De...wait for it.... nied!
---
Barney

:
Our friend Robin used to do porn—wait for it—ography!

Ted

:
Yeah, we really didn't need to wait for that.
---
Barney

:
It will be legen—wait for it... and I hope you're not lactose intolerant because the second half of that word is—dairy!
---
Barney

:
I'm—wait for it—in—wait for it—love—wait for it—with—wait for it—a—wait for it—certain—wait for it—

Marshall

:
I know you're in love with Robin!
---
Barney

:
We saw a movie last night. It was legend... wait for it... s of the fall. It was ok.
---
Robin

:
And you know,a week from today we are going to be legend... wait for it...

Barney

:
...married!

Barney and Robin

:
Legendmarried!
---
Barney

:
Our wedding is gonna be legendary.

Robin

:
No wait for it?

Barney

:
I've got you, I don't have to wait for it anymore.
---
External Links
Community content is available under
CC-BY-SA
unless otherwise noted.