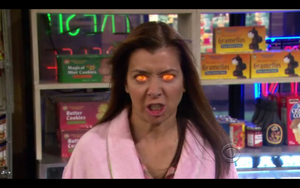 The
You're dead to me look
, is a look
Lily
invented to use on people she hates or despises a lot.
It involves her looking at them with an extremely angry look in her eyes. When she gives people her "Dead to Me" look, she ignores them and makes them invisible in her life. She first demonstrated this on her father, who forced her grandpa to work again because her dad moved back to their house without a job. (Slapsgiving 2: Revenge of the Slap)
Marshall has his own version of the look. He's given it to Lily's father, but everyone agreed that it was not as intense as Lily's. He also gave the glare to Amanda, when she wrote on Lily's birthday cake "Happy 42nd Birthday, Lori!". (Say Cheese)
Lily uses the look again in The Locket.
Gallery
Allusions and Outside References
When Lily gives her look, she resembles her character from Buffy, The Vampire Slayer, Willow when she goes dark.  She also kills one of the characters by destroying them in fire, similar to Lily's look's effect.
The Music of the "You're Dead to me Look" is the theme song from the movie "Halloween."